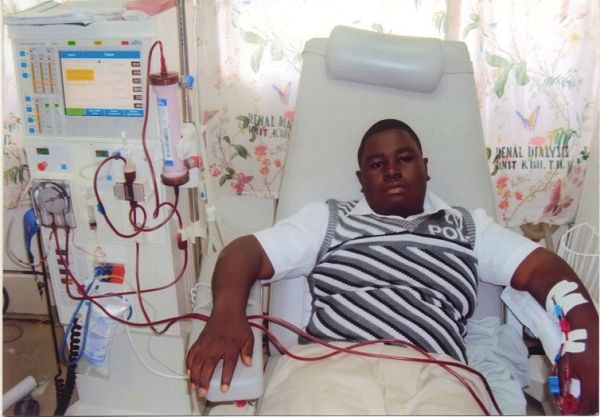 This is a story of sacrifice, a story of how far a mother will travel to ensure that her child survives.
Ms Janet Donkor, a single mother of two had barely recovered from a fire that razed her beauty salon, the only source of income for her family when her 14-year-old son, Richard Kusi Yeboah, was diagnosed with end-stage renal disease (kidney failure).
Prepared to do everything it takes to make her son survive, she donated one of her kidneys to him but the procedure was unsuccessful, leaving her son with no option but to be on dialysis.
Five years after the unsuccessful procedure which left her with one kidney, she continues to commute with her son from Amasaman where they live to the Korle Bu Teaching Hospital three times a week for his dialysis session.
Due to the few number of dialysis machines at the Renal Unit of the hospital, they have to set off at dawn and wait for their turn; which sometimes means staying till the next dawn.
Her son's condition has had a toll on her finances and she's also unable to work full time to support her family because of their schedule at the Renal Unit.
Currently, a dialysis session at the hospital costs GH¢270 and although First Sky Group, a construction firm pays for two of the sessions for about 90 per cent of patients at the Unit, she has to find money to pay for one session, buy medications and also cater for emergencies.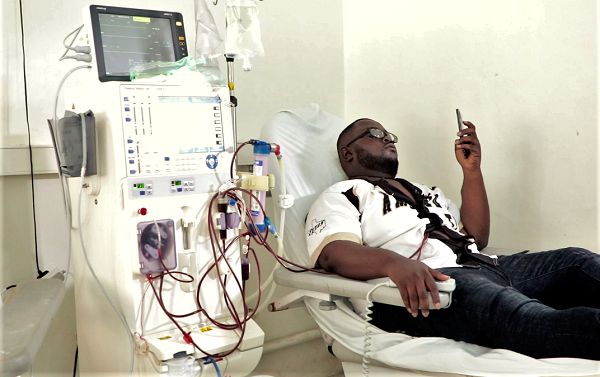 How it started
She recounted that Richard was rushed to the Amasaman Government Hospital in 2011 after he collapsed at dinner one evening.
He was discharged after treatment and continued his daily routine until he collapsed again two weeks after the initial incident and was rushed to the same facility where he had earlier received treatment.
This time, doctors referred him to the Korle Bu Teaching Hospital for further analysis and treatment.
"His condition worsened; he went into coma and results from tests confirmed both his kidneys were damaged and so he had to be put on dialysis to survive," she told The Mirror.
Dialysis, also known as renal replacement therapy, substitutes the natural work of the kidneys.
According to health experts, when your kidneys fail, dialysis keeps your body in balance by removing waste, salt and extra water to prevent them from building up in the body and also helps in keeping a safe level of certain chemicals in the blood as well as control blood pressure.
She admitted that she was deeply troubled by her son's condition but had to put herself together and raise funds for the treatment.
Her son needed at least three sessions of dialysis per week at a cost of GH¢140 per session then.
Additionally, they also had to run series of tests and buy medications and this wiped out her savings.
Her mother, Richard's grandmother, had to take a loan of GH¢5,000 to support the treatment as bills continued to pile up.
Appeal for funds
The loan was not enough and Ms Donkor realised that the only way to keep her son alive was to solicit for funds from individuals and organisations.
Luckily, her appeals yielded some results as members of her church (Church of Pentecost), close friends and some institutions made some donations to support the treatment.
She was advised to consider kidney transplant, which is the best treatment option for people with kidney failure as it increases chances of living a longer, healthier life.
Fortunately, a test revealed that she had the same blood type as her son and so if she was able to raise the cost for the surgery (GH¢ 60,000) she could donate one of her kidneys to her son.
"I was prepared to go to any length to save my child, I remember when I decided I would give him my kidney, many friends and relatives discouraged me because they thought I could lose my life in the process."
"All that mattered to me then was my son recovering even at the expense of my life; I had lived for a number of years but he was young and had a whole life ahead to live.
My major challenge was raising funds for the procedure and tests that preceded it." She said.
In 2014, an appeal made in the Daily Graphic yielded results and old students of Accra Academy (Bleoobii) where Richard was schooling then, made donations towards the kidney transplant.
Mr Douglas Dodoo, an old student who lived in the United Kingdom raised GH¢13,000 from colleagues and friends.
Mr Abel Cofie, also an old student, the local coordinator for the local fundraising also raised GH¢15,000 from Bleoobii and other individuals in Ghana.
The National Lotteries Authority also donated GH¢20,000.
Other groups and individuals also contributed towards the surgery as well as other medical expenses.
Unsuccessful kidney transplant
Unfortunately, after one of Ms Donkor's kidneys was transferred to her son, it could not function properly.
Head of the Renal Unit at the Korle Bu Teaching where the surgery was done , Dr Vincent Boima, in an interview last Monday said a number of factors could result in a healthy kidney failing after a transplant.
In Richard's case, he said though he was out of the country at the time of the surgery, he was informed that his body rejected the kidney right after the procedure as blood could not flow properly to the kidney.
Ms Donkor said she was in the recovery ward for three days after the surgery when doctors broke the news of the failure to her.
"I was devastated!, we had spent so much and gone through a lot of difficult times to get to this stage and just when we thought our problems were coming to an end, this happened."
"They had to take him back into theatre to remove the kidney and I asked them to put it back at where they picked it from so I could give it back to him in another surgery but I was told it was not possible."
"I was okay to go home but I told them I wasn't leaving the hospital without my son which they agreed to."
Fighting for his life
Two years ago, Richard was knocked down by a hit and run driver which resulted in fractures in his legs.
He was admitted at the accident centre of the Korle Bu Teaching Hospital for six weeks and during that period, he had to be wheeled on his bed to the dialysis session thrice a week.
Despite his condition, the 22-year-old who aspires to be a pilot is hopeful that they will get sponsorship to perform another surgery out of the country.
His condition has slowed down the pace of his education as he spends three days every week at the Renal Unit of the Korle Bu Teaching Hospital.
This excludes other emergencies and routine check-ups.
Typically, a dialysis session runs for about three and half hours but they spend not less than eight hours.
He has completed a basic course in Flight Dispatch at Ghana Civil Aviation Academy.
"My mum is my superhero and my life saver.
It is my prayer that God will bless her and give her long life to be able to take care of me and with God on our side, I am optimistic that I will get sponsorship for my surgery and be able to live my dream."
"I love her so much and know that all her efforts will not be in vain," he said.
Testimonials
Dr Boima was full of praise for Ms Donkor, and described her as a woman who was very passionate about her son.
"She is prepared to do everything possible to make sure her son survives.
There are times that she has even offended some people at the unit just to make sure her son is attended to, and we totally understand her plight.
"She would chase you with lab results, ask questions and keep reminding you they are waiting.
With her determination, I am very optimistic that they will eventually see light at the end of the tunnel" he said.
Mr Dodoo, the Bleoobi who spearheaded the fundraising in the UK also described her as a courageous woman who would go all lengths for her son.
"She is a "wow" woman. After all they have been through, she never gives up, she keeps fighting so her son can live."
Mr Cofie, who again helped with another GH¢29, 355 for Richard after the accident in 2017 also added "Janet is indeed a strong willed mother, a trait you find in Richard as well.
"She is indeed a replica of what the hymnist wrote "Can a woman's tender care cease towards the child she bare?"
Source: graphic.com.gh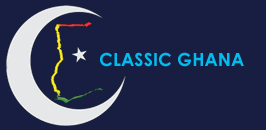 Latest posts by Classic Ghana
(see all)