Ghana is about to witness a unique musical show, come September 29, at the plush Kempinski Hotel, Gold Coast City, Accra.
A show that would pair, three true legends of Ghana music on one stage, to entertain and thrill music lovers, as the nation, enters the last quarter of the year, that is usually characterised by series of entertainment shows across the country.
The idea of pitching the maestro Kwadwo Antwi, Daddy Lumba and Samini – multiple award winners, on one stage to celebrate the night, is definitely a laudable idea. An idea that would shake the foundation of the venue and give patrons value for money on the night.
It would be a show that, any lover of music cannot afford to miss, as it represents a blend of old and new tradition, that would afford patrons the opportunity to enjoy quality music and dance throughout the night.
Antwi, is no doubt a legend, who has not just survived the turbulent music industry, but produced quality songs, with over 13 albums to his credit. Albums with songs, that have remained relevant on the scene for years.
His quality, no doubt is par excellence. He is endowed with an enviable stagecraft, capable of keeping fans on their toes, dancing as long he remains on stage. With the Maestro, you cannot afford to take a seat, at his shows.
His style of entering the stage, is always unique and he would never disappoint, when it comes to delivery. He blends love poems, deep thoughts about life and makes the thought of love an exciting one.
He is no doubt one of the greatest musicians in Ghana and is capable of whetting the appetites of his listeners, when it comes to love. It's night that would have "Afafanto", "Groovy" "Mr. Music Man" and many more hits served on the menu.
Daddy Lumba, is one great musician, in a class of his own. He has constant hits, to his credit and regarded as one of the most successful musicians in Ghana. His songs, comes with excitement and danceable beats, that would naturally pull fans off their feet to the dancing floor.
The 58-year old musician, who remains dear to hearts of many, with his unique songs and beats, is always a delight to watch and his presence on stage on the night, would be a major motivation for music lovers to storm the venue.
With over three decades of quality and danceable songs in his career, Lumba, would dish out to fans some exciting songs such as "Aben Woha", "Doctor Panie", yeniwu srii kwa, "wohokyere" and many more.
His inclusion in the list of artistes for the night, is well thought-out. It is perfect decision, that would make the show, the talk of town after September 29.
Samini, 36, would be a prefect representation of today on stage on the night. He would represent the youth and the generation of today, coming with a background of hip-life, dancehall, reggae and hip-hop.
He is one talented musician, who has survived the turbulent music industry and remained relevant to both and young old.
His genre of music could be described as a melodious blend of hip-life, reggae, dancehall and hip-hop, that have kept him very relevant despite being on the scene for over 15 years.
The "Linda" hitman, is another great performer and is regarded as one of the musicians, who are capable performing with a live band.
He would definitely be a delight to watch and capable of keeping fans to their dancing feet throughout the night.
With Samini, one should expect nothing but a smooth rendition of the likes of "My Own" "Gyai Shii" "Obaa", "Iskokoki" and many more.
The legendary trio, would definitely be a delight to watch and patrons be prepared to be thrilled with quality songs and minute-to-minute hits.
The Africa Legends Night – a true night for the legends.
Source: GNA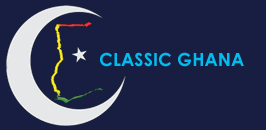 Latest posts by Classic Ghana
(see all)