The chiefs and people of Agotime Traditional area have launched the 2018 Agotime Kente Festival, targeting 15,000 local and foreign tourists to Kpetoe, the kente weaving village.
More than 37 communities in Ghana and Republic of Togo every year celebrate kente as an economic and cultural heritage at Agotime-Kpetoe.
Mr Eddie Akotey, Chairman of the 2018 Festival Planning Committee, said the event has been packaged to appeal to all and reposition Agotime as home of quality kente with aesthetic indigenous designs.
He said highlights of this year's event would be medical outreaches, a "borborbor night" firing of musketry, kente weaving competition, clan celebrations, "Godigbe" and a grand durbar on October 20.
Mr Akotey said they were expecting about 100 tourists from the United States and other foreign visitors including natives in the diaspora.
Togbe Kasa II, Chief of Ho Ahoe, who launched the festival, said it was time kente weaving was revolutionised into a sustainable world class industry and not only a "merry-making" event.
Mr Charles Agbevem, Member of Parliament for Agotime-Ziope, appealed to government to help complete the Kente Village -a one-stop shop project to promote the industry.
Nene Nuer Keteku III, Paramount Chief of Agotime, in a speech read on his behalf, called for unity and a successful celebration.
Source: GNA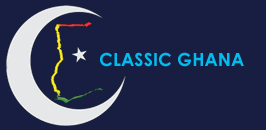 Latest posts by Classic Ghana
(see all)