VETERAN movie star, Kofi Adu popularly known as Agya Koo is making a return to the movie industry after a six-year hiatus with a role in the upcoming movie, Away Bus, a joint production by Peter Sedufia and Kofi Asamoah.
According to the producers, Agya Koo's addition to the cast, which is a blend of Kumawood and English speaking actors, is to ignite excitement among movie lovers and further help bring the industry back to life.
Apart from Agya Koo, Away Bus also features John Dumelo, Mikki Osei-Berko, Fella Makafui, Tracey Boakye, radio personality, Abeiku Santana, Priscilla Opoku-Agyeman (Ahoufe Patri), Kalybos, Yaw Dabo and Big Akwes.
The producers, Peter Sedufia and Kofi Asamoah, told the Graphic Showbiz that the stagnation in the movie industry, apart from it being due to lack of funding, could also be attributed to a general lack of creativity which the likes of Agya Koo and others veterans exhibited in the past.
Peter and Kofi alluded to the fact that Agya Koo, who plays the role of an uncooperative passenger on board a bus that has been attacked by armed robbers in Away Bus, played a key role in getting the Ghanaian movie industry back on its feet when foreign productions inundated our screens some years ago.
"At present, we have seen a similar trend where local productions have dropped with many people consuming foreign content owing to a neglect of the sector, and this is where we see Agya Koo as an asset to launch another rescue agenda," they said.
They remained hopeful that Away Bus would start a new revolution where people would be willing to commit funding to support the sector.
For his part, Agyaa Koo, who described his comeback as a divine opportunity to rescue the sector, expressed hope that stakeholders would come together and help make the sector better.
He, however, debunked suggestions that his conduct led to him being sidelined by movie producers.
According to him, although he got scripts from some producers while he was away, others questioned his commercial relevance, leading to some of the producers making a U-turn against him.
Asked whether Ghanaians would welcomed his comeback considering some of his pronouncements particularly on the country's political front, Agya Koo stressed that there is a huge appetite for movies he features in.
"The numerous comeback calls from people particularly in the United Kingdom and the United States, where people mainly use my movies as a form of entertainment is testament that I still remain relevant in the Ghanaian movie industry and I believe this is the time to make a huge impact through the Away Bus movie," he stated.
He also pointed out that although him being away from the sector had somehow impacted on his finances, his Tete Mmofra Band, had helped to sustain him by way of performances at funerals and other social events in parts of the country.
"I am thankful to all who have supported me in diverse ways and to these two brilliant young producers who have decided to reach out to me on the back of my contributions to the sector, and it is my hope that Ghanaians would rally behind us to turn the sector into one that can create employment", Agya Koo stated.
Source: Graphic Showbiz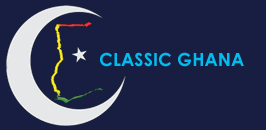 Latest posts by Classic Ghana
(see all)