Hell hath no fury like a woman scorned, and one scorned Ghanaian woman who has transformed her rage into positive energy to sustain her relevance and public attention is the ever-hyper and happy-go-lucky Rosemond Alade Brown, mostly known by the showbiz name, Akuapem Poloo.
It is an undeniable fact that Akuapem Poloo has fame and public attention accorded by the mass media. Yet many have challenged her celebrity status. Interestingly, some of the persons who have vehemently argued that Akuapem Poloo is not and should not be referred to as a celebrity, are not known beyond the doors of their bedrooms.
Poloo as an actress has featured in 'Efiewura', a popular Ghanaian television sitcom that airs on TV3. She has also appeared in a number of Ghanaian movies. She is a well-sought-after video vixen and has appeared in countless music videos. She is a brand ambassador to several products. Her verified Instagram page has over 250,000 followers. Her other social media handles combine another 200K plus followers.
Poloo has dared to be different. She has dared to stand tall for what she believes in and has not allowed herself to be cowed into docility by the vitriolic tongues of her critics. She has not pretended to be diplomatic. She loves to prove the craze in her. And she lives her ever-hyper life without giving a hoot about what anyone thinks or feels about it.
Perhaps that explains the scorn that has come her way and the several predictions of doom that she would soon flop, lose her relevance and fade away into oblivion.
But Poloo has consistently said she is not afraid to fail. She tries new ideas without the fear of failure. And even in instances where her strategy has not worked to plan, she quickly dusted herself and climbed on the negative experience to better position her for her next game.
Perhaps her tenacity and raw etiquette is what has earned her so much scorn. She breaks all the rules of protocol to gain attention and recognition. She is beautiful as well as has a great body that cannot go unnoticed.
In a period of 12 months, Rosemond Brown has signed three brand ambassadorial endorsement contracts. Her doughty make-up lifestyle has rewarded her and jettisoned her to the cooperate world.
The single mother of one, who feels no shame for her trend, garnered a lot of attention after she had publicized her semi-nude photos on social media early this year during the Valentine festive season.
She became the centre of discussion where many social media users threw shots at her, attacking her personality and making public ridicule of her. She cared less.
On several occasions, her critics have publicly doubted her mental stability. She still cared less.
Rosemond Brown has become, the "loudmouth" who will always add her voice to trending issues surrounding the Ghanaian showbiz fraternity, making enemies and friends for herself, and that strategically gets her the eyeballs.
With her abrasive personality, many female celebrities have refused to associate themselves with her. They have expressed fears that her brand would taint theirs. Observers have however opined that the female celebs shunning Akuapem Poloo are simply feeling paranoid and insecure.
It was reported that a particular popular actress refused to cast in the movie 'Away Bus' directed by Kofi Asamoah after she became aware Akuapem Poloo was also a cast.
Last year at an awards ceremony, it was reported that another female filmmaker refused to present an award to the winner of one of the categories after she saw Akuapim Poloo at the backstage preparing for her turn to present an award to the winner of another category.
Despite the stigmatization and intolerance, she has suffered from peers and the showbiz fraternity, Rosemond Brown has kept her identity and now a key panjandrum in the Ghanaian showbiz space.
It was not accidental that when American rapper, songwriter, actress, and television personality, Cardi B came to Ghana, she singled out Akuapem Poloo and called her "twin"
Among the several 'well behaved', 'well polished', 'well cultured' female celebs, it was Akuapem Poloo that got singled out. She was the one who dared to invite Cardi B into a twerking show during what was to have been a media encounter.
It was Akuapem Poloo who worked her way into stealing the show and directing all the attention to herself. She eventually got Cardi B to follow her on Instagram and even posted her photo!!
It was Akuapem Poloo who dared to take advantage of the Carbi B visit to market her 'Sexy Poloo Honey' and let the world know she was into the business of selling natural honey. What a smart marketing strategy.
Cardi B in her words divulged how she enjoyed her dance with Akuapim Poloo, took a picture with her and declared her as her perfect 'twinnie' afterwards.
Business is going on well for Akuapim Poloo after Cardi B had added her to the few persons she follows on Instagram.
At the very time of drafting this piece, Rosemond Brown is trending number one on all social media platforms, winning numerous endorsement deals and garnering millions of followers and fanatics to her camp.
What comes to mind here is one of the sayings by popular blogger, Israelmore Ayivor: "take bold decisions. Don't let doubts fumble decisions in your mind and make you confused. Pursue what you are convinced to do; else you set yourself up where you do not belong."
Source:thepublisheronline.com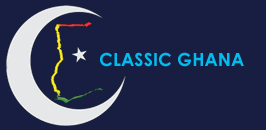 Latest posts by Classic Ghana
(see all)