Four people have died in a shooting at a Chicago hospital, including two female members of staff and a police officer, and the gunman himself.
The two women killed were a doctor and a pharmaceutical assistant, Mayor Rahm Emanuel confirmed.
A police spokesman said the gunman had died in an exchange of shots, but it is not clear if he took his own life.
A second officer avoided injury after a bullet fired in his direction became lodged in his gun, police say.
Officials say the gunman appeared to target a woman with whom he was in a relationship but they do not suggest a motive.
"Chicago lost a doctor, pharmaceutical assistant and a police officer, all going about their day, all doing what they love," said Mr Emanuel. "This tears at the soul of our city. It is the face and the consequence of evil."
What happened?
The incident occurred at Chicago's Mercy Hospital at about 15:00 local time (21:00 GMT) on Monday.
Police say it started with a row in the car park between people who knew each other.
The gunman first shot the woman he apparently knew and then headed inside the building, closely followed by several police officers. More shots were fired, apparently at random.
Mercy Hospital was quickly evacuated during the incident as armed police descended on the scene.
The hospital later confirmed that police were able to secure the area, ensuring the safety of dozens of patients.
Other images from the scene showed people rushing outside the facility, including some staff in uniform.
What do we know of the victims?
US media named the doctor killed as Tamara O'Neal.
Police confirmed that an officer named Samuel Jimenez had died in hospital of his injuries.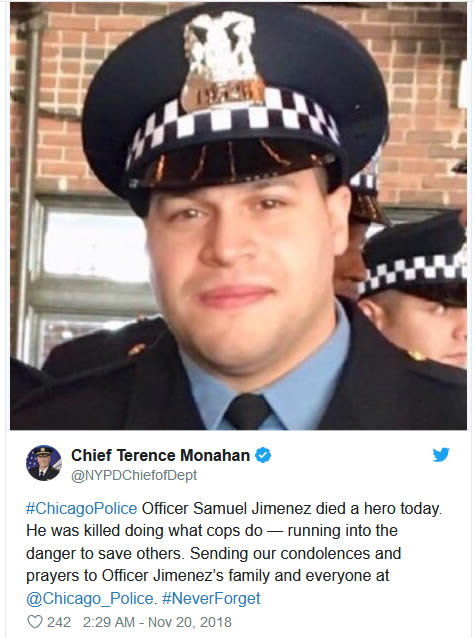 "Those officers who responded today saved a lot of lives," said Police Superintendent Eddie Johnson.
"A woman who got off the elevator, she did nothing and he just shot her. We just don't know how much damage he was prepared to do."
How did the second police officer survive?
The officer who was shot at but escaped injury during the incident shared images of a bullet embedded in the side of his gun, Chicago news broadcaster ABC7 reported.
How big a problem is gun violence in America?
At least two other deadly shootings were reported on Monday:
In Philadelphia, Pennsylvania, the bodies of four people were found shot dead "execution style" in a basement, US media report
In Denver, Colorado, one person was killed and three others wounded. Police are still looking for the gunman
US medical professionals recently became involved in an online campaign protesting against gun violence.
The hashtag #ThisIsOurLane was used by doctors in response to a tweet from America's powerful pro-gun group, the National Rifle Association (NRA), that suggested anti-gun doctors should "stay in their lane" after high-profile shootings.
Some doctors rebuked the assertion – sharing emotional stories and blood-splattered photographs of their treatment of gun violence victims.
Almost 13,000 people have been killed by guns so far this year in the US, according to data compiled tracking website Gun Violence Archive.
They say another 25,000 have been injured and more than 250 police officers have been shot on duty.
Source: BBC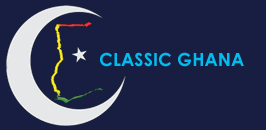 Latest posts by Classic Ghana
(see all)