The construction of the Jamestown Fishing Harbour is set to commence January or early February next year, the Mayor of the Accra Metropolitan Assembly (AMA), Mr Mohammed Adjei Sowah has said.
The Mayor disclosed this at the Graphic-AMA Farmers' Day 2019 fair held at the forecourt of the AMA offices.
The fair was held as part of activities to commemorate this year's Farmers' Day in Accra.
According to Mr Sowah, the Ministry of Fisheries has finished taking into account all of the project's relevant factors making it possible for the construction to begin January 2020.
He said the Ministry of Fisheries has concluded the requisite feasibility studies at the project site and come January or early February, the construction of the Jamestown Fishing Harbour will start".
Award Winners
The Assembly honoured farmers, fishermen, processors, market associations and other individuals involved in Agriculture in the Metropolis who excelled and deserved to be appreciated.
A total of 10 awards were given to individuals and groups who emerged best in their respective categories.
The criteria for the selection included good record kepping, good husbandry practices, general knowledge in agriculture, environmental consciousness and contribution to one's community.
Mr Emmanuel Oblite, a 45-year old man with 30 years experience in fishing, was adjudged the overall best farmer.
He owns a fishing vessel called the Black Pioneer and has eight employees.
He owns 10 houses at Glefe and two others at Chorkor, both in the Greater Accra region.
Mr Oblite has four wives and seven children.
For his prize, he was handed a Motor King tricycle, a smart tv set, cutlasses, four pairs of gloves and three pairs of Wellington boots.
Mr Oblite in his remarks thanked the Assembly for recognising his performance in the agricultural industry.
"Thank you very much because today, I have also received an award meaning my work has not been in vain", he said
The award for the best institution went to the St Mary's SHS at Korle-Gonno.
The school with a population of about 1,400 and close to the sea, has planted over 50 trees of different species around the school compound to avert the negative effects of windstorms.
St Mary's SHS also receives a number of coconut seedlings as their share of planting for export and rural development.
Their prize included a poly tank, water hose, cutlasses, Knapsack sprayer, pairs of gloves, pairs of Wellington boots and nose masks.
The Best Poly Fisherman prize went to Mr Benjamin Ahene Quarcoe from Jamestown, while Best Hook and Line fisherman went to Mr James Kwaku Prah from Jamestown. Mrs Sarah Quansah from Chorkor emerged best fish processor.
All three were awarded a chest freezer each (600 litre), four pairs of gloves, three pairs of Wellington boots and cutlasses.
Other winners were;
Best Backyard farmer- Mr Simon Ayivor
Best Agro processor- Mr Ransford Wiafe Danquah
Best organised group- Kwasia Dwaso market
Best crop farmer- Mr Issah Abdul Rahman
Best livestock farmer- Madam Regina Dougblor
Mr Adjei Sowah congratulated and thanked all the award winners for their effort to help in the development of the country.
He assured them of the assembly's support and also urged them to expect improved prizes next year.
"Let me thank all the award winners for what you have done for this country and assure you of our continuous support that, come next year, the prizes are going to be much different and you will be very much happy that you chose a vocation in farming", Mr Adjei Sowah said.
Source: Graphic Online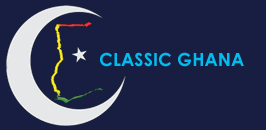 Latest posts by Classic Ghana
(see all)