Every lady emboddies the dream to be customed from head to toe with a detailed bridal dress that will endure great memories of their marital ceremony, but not many envision that outfit to be a suit composed of a blazer and trousers.
With the direction of style in the world, the push to popularize LGBTQ, and also the growing status of women in the office space, rocking suits to your wedding day may not be so far-fetched, and Nigerian designer Elizabethan is staying ahead of the trend.
Elizabethen Breaks The Mould
As the internet stays riddled with tips on choosing bridal gowns and flourishing with viral sweetheart bodice looks, Elizabethan just served an all-white bridal as one of her premiere looks as a designer brand. The outfit was adorned by stunning dark-skinned beauty Abisola.
The suit was rocked with a fabulous woven turtle neck jumper with high waist trousers. The stunning shots that depicted the suited bride were taken by photographer Obi Chimezirim.
COULD THIS TREND?
Yes, brides in suits may not be new, especially amongst lesbians, but could editorials and designers like Elizabethan make it tolerable amongst straight couples.
In fact, suits for the bride is so indefinitely not the norm it did take a few moments for us to come to the conclusion we were staring at one. But with so many weddings in Africa, and Ghana for example having such how female entrepreneurs, could this soon become a trend?
But it's steps like this that break the mould, and the question is, are you capable of rocking a bridal outfit on your wedding day?
Source: Fashion Ghana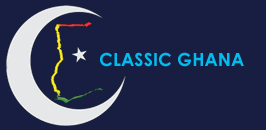 Latest posts by Classic Ghana
(see all)