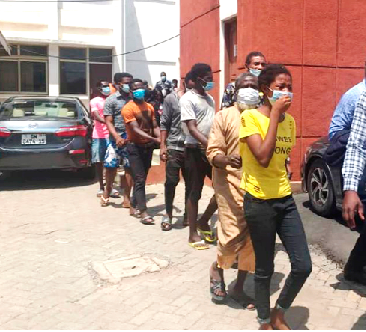 The Accra Circuit Court has refused to grant bail to some 53 suspected secessionists who were arraigned for allegedly engaging in acts seeking to break away parts of the Volta Region from Ghana.
The 53 are alleged to be members of the so-called Western Togoland Group.
Two different Accra Circuit Courts yesterday dismissed various bail applications by the lawyers of the alleged secessionists and subsequently remanded them to assist with investigations.
The 53 accused persons have been slapped with provisional charges of conspiracy, attending a meeting of a prohibited organisation, participating in a campaign of a prohibited organisation and rioting.
They are to re-appear on October 21, 2020.
31 accused
At the court presided over by Ms. Rosemary Baah Tosu, 31 of the accused persons were arraigned.
They include Rejoice Amankwah, Noah Ahiatrogah, Mohammed Abdullai, Daniel Gbetornyeku, Raymond Adeya, David Eze, Jeffery Fiave, Luis Nyadzinyo, Ernest Kpevu, Ebenezer Kwamega, Simon Lavoe, Sylvester Komena Nyadzinyo and Bless Klutse.
Others are William Amernorho, Ernest Seke, George Adababu, Dennis Amevor, Sheboebornu Sena and Nelson Bobie.
The rest are Samuel Gbolomor, Nelson Amoah, Divine Seddoh, Abiwu Felix, Albert Ahiable, Agbemenya Dotse, George Akwetsi, Duwoe Philip, Mawulolo Aboble, Alolo Amemor, Edem Amevor and Callib Atsuanyealor.
At another court presided over by Ms. Susana Eduful, 13 suspected members of the Western Togoland Group were also arraigned.
The 13 are Nene Kwaku Agblorm II, Raphael Tetevi, Felix Sosa, James Nanewortor, Lena Amegbor, Rev. David Tagbor Dumakor, Seleasi Gbadago, Gilbert Nyadzinyo, Awudza Godwin, Divine Nyadzinyo, Excel Liberty Aheto Kuegbeshika, Lawrence Nyadainyo and one Benjamin.
Facts
According to the prosecution, Nene Agblorm II was the Principal Elder of Dorsi Clan of Osuwem, while Raphael was a resident of Dahwenya, with the rest being residents of Juapong.
Per the facts, Nene Agblorm II was also the Chairman of the West Salt Province of the Front.
The prosecution said prior to the September 25, 2020 attacks and disturbance at Juapong, there were meetings between Nene Agblorm II and other senior members of the organisation, now at large.
It said in the meeting, Nene Agblorm II took minutes of their meetings on the line of action and incited the other accused persons, who took to the streets and blocked the Juapong-Accra main road amidst of burning of lorry tyres and firing of gunshots.
Source: Graphic Online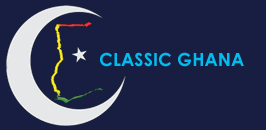 Latest posts by Classic Ghana
(see all)