The crackdown on illegal fishing activities by the Fisheries Commission and the Ministry of Fisheries and Aquaculture Development (MFAD) has yielded more than GH¢13,000.00.
The amount accrued from fines imposed on 100 fishermen prosecuted out of over 200 perpetrators arrested under the implementation of the West Africa Regional Fisheries Programme (WARFP).
Mr Michael Dawutey, Monitoring and Evaluation Specialist, West Africa Regional Fisheries Programme, Ghana, disclosed this to the Ghana News Agency.
According to him, GH¢6,438.00 out of the figure had been paid into the Fisheries Development Fund.
He added that 3,000 monofilaments nets, 600 generators and light accessories, as well as 120,000 metric tonnes of fish were also confiscated.
The $53 million WARFP commenced in 2012 in Ghana with the aim of enhancing the sustainable management of the country's fish and aquaculture resources, as well as reducing illegal fishing.
Other objectives were increasing the value and profitability generated by fish and aquaculture resource exploitation, and the development of the aquaculture sector.
Mr Dawutey indicated that a total of 76 trawlers were licensed during the fourth quarter of 2017, above the agreed 74 expected to be registered to meet the modalities of the programme.
He explained that there was the need to reduce the number of trawlers operating in Ghana's fishing area since there were more vessels chasing fewer fishes in the sea.
He however stated that MOFAD was considering the adoption of a quota system to reduce the fishing effort to sustainably manage Ghana's fisheries resources.
He stated that the quota system would ensure that a vessel could not catch more than a given number of fishes at a particular time.
The Monitoring and Evaluation Specialist said the programme had achieved a 100 per cent registration of 123 industrial and semi-industrial fishing vessels.
Twenty-nine local tuna vessels were licensed while 14,140 canoes were registered with about 71 per cent of the number receiving embossments.
Mr Dawutey further said there was a 100 per cent Vessel Monitoring System (VMS) of industrial trawlers at the Tema, Takoradi and the Ghana Navy head office.
Source: GNA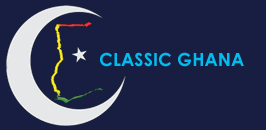 Latest posts by Classic Ghana
(see all)