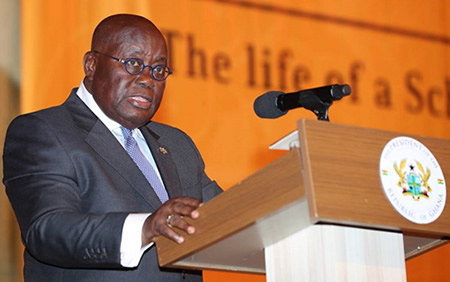 President Nana Addo Dankwa Akufo-Addo says the process for the creation of the proposed six new regions is now in the hands of the Electoral Commission (EC) and Ghanaians.
He was receiving the Report from the Commission of Enquiry at the Jubilee House, in Accra from its Chairperson, Mr. Justice S.A. Brobbey.
In the report, the Commission recommended the creation of the six new regions – Western North, Bono East, Ahafo, Savannah, North East, and Oti.
It further recommended that the EC should hold referenda in those areas to determine whether the constitutional threshold for the creation of new regions would be met by the vote of the people affected.
President Akufo-Addo expressed his deep appreciation to the nine-member Commission "for bringing to a conclusion this momentous undertaking", adding that he had followed with keen interest the proceedings of the Commission, and was satisfied with the wide nature of the consultations undertaken.
At least 50 percent of the persons entitled to vote must vote in the referendum in each of the areas.
Also 80 percent of the votes cast should be in favour of the creation of the region.
"The Constitution insists that the process and outcome must be guided by the popular will, and it is my earnest wish that the holding of the referenda will be conducted in an orderly and peaceful manner," the President said.
He explained that throughout history, administrative regions had been created to bring governance closer to the people and accelerate socio-economic development.
Hopefully the creation of those new regions would serve the same purposes.
The President acknowledged the support of Ghanaians including Members of the Council of State, Regional Ministers, Members of Parliament, Municipal and District Chief Executives, traditional rulers, security personnel, public servants, opinion leaders, the media, professionals, workers and farmers during the Commission's consultations and public hearings.
"We are chartering new paths in the development of Ghanaian democracy. This is the first time that in a constitutional era, regions are being created under constitutional provisions.
The work of this Commission will definitely be one of the landmarks in that journey. History will definitely applaud, I have no doubt, the manner in which this Commission has discharged its historic duty," the President added.
He said it would be remiss of him not to pay tribute to the Minister for Regional Re-organisation and Development, Mr Dan Kwaku Botwe, for the exhaustive, painstaking and sensitive work done to bring this matter to its present state.
"General, as he is often referred to in NPP circles, ayekoo. You have proved yourself a public servant of the highest pedigree, and I thank Almighty God for the inspiration that led me to choose you to lead this vital, national initiative."
Source: GNA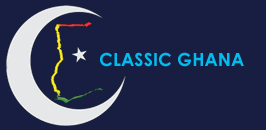 Latest posts by Classic Ghana
(see all)