A few decades ago, long, straight hair was the "it" thing. It was such a big deal that black women would go and get perms (also known as the creamy crack) to straighten their hair just to look like the girls in the magazines. Perms earned the title of creamy crack because in order to maintain the look of straight hair, you have to continuously get perms, like a bad habit that's hard to stop.
The perming of hair, essentially, damaged hair so badly that it actually caused hair loss. After such a traumatic experience like that, black women had no choice but to embrace their natural hair, which was a part of the "natural" epidemic.
Lots of black women today are going natural. Going natural means not putting perms in your hair anymore, and by going natural, many women have experienced several benefits they didn't have before. Their hair has actually grown faster and thicker, and of course, it grew back in a curly texture.
Those who go natural by choice will cut their hair off where their permed hair ends. This typically leaves them with a TWA (Teeny Weeny Afro). It's an awkward stage of hair growth, but it's still worth embracing, because it's a only a temporary stage of growth. Those that like that length and stage of hair growth just continue to cut their hair to keep it at that length.
If you're someone who's new to the natural game, don't panic; it takes some getting used to, but it is totally worth it. Love your curls, and wear them proudly. If you want to be happy while being nappy, follow these tips to embracing your curls.
Your Curls Make You Special
Oh how the times have changed! As you already know, straight hair was the thing a while back, but everybody had straight hair, so there was nothing to make you stand out from everybody else. So, just imagine a world full of normalcy, and then adding a little bit of chaos to it. The girls with the curls bring the chaos!
It's okay to be different from others, and you really should learn to appreciate your uniqueness. Just because one woman is beautiful with her straight hair, who says you can't be just as beautiful with your curly hair, and still be totally different from her? Instead of comparing yourself to other women, focus on yourself, and how to become a better you.
There's Not Just One Type of Curl
Curly hair does have great benefits. One of those great benefits is that your curls add a little more diversity to your hair, making you stand out in a sea of straight hair.
You may not have paid too much attention to it, but there are different curl types. Let's explore the different hair textures and curl types so you can figure which one your hair matches.
Type 1 Straight Hair: Straight hair is the most resilient of the hair types. This texture is very durable, and reflects the most sheen, and is also the most oily of hair types. This is due to the oils in the scalp being able to easily make its way down to the ends of your hair without running into any kinks or curls to slow it down.
Type 2 Wavy Hair: Wavy hair is a mix between straight hair and curly hair. Type 2 wavy hair is further broken down into classifications of A, B, and C. 2A has very little waves. 2B has a little bit of wave definition. 2C has full wave definition. Type 2 hair, in general, holds sheen, but not as much as straight hair, but is more prone to frizzing. The less you play around in your hair, the less frizzing you will experience.
Type 3 Curly Hair: This hair type is generally known for its noticeable "S" shape. This air type also comes in the A, B, and C classifications. So when trying to figure out if you have type 3 hair, look for the "S." Also, keep in mind that the s might be lowercase or uppercase. 3A and 3B have an uppercase S shape, while 3C has the lowercase s shape.
Type 4 – Kinky Hair: Kinky hair is tightly coiled with a zig-zag pattern. It's also been classified a "nappy." Kink hair is the driest of the hair types, but is also the most fragile, which is why it needs to be handled delicately. It has also been said that this hair type doesn't grow, which couldn't be further from the truth. It actually grows at the same rate as any other hair texture, it just has to be properly taken care of by moisturizing it regularly.
Your Hair is Healthier
Letting your hair breathe by not incorporating harsh chemicals, such as perms, will allow your hair to prosper. Putting too much heat on your hair when trying to straighten it is also very damaging. Certain hair types can handle heat and other chemicals better than others, but a good rule of thumb to have is to try and avoid heat and chemicals if possible.
Efforts to keep your hair healthy has lead women to up their natural hair care regimen, as well as opt for protective hairstyles. Some popular protective style amongst black women are braids, wigs, and sew-ins. Protective styles protect your natural hair from elements of your surroundings such as heat from the sun, as well as the harsh cold weather. Those elements alone can drastically damage your hair if you don't prepare your hair for it.
One thing that has helped naturals, especially those that are new to the natural life, is following natural hair care blogs. It helps those who don't know how to braid, or have no clue what type of products to use on their hair. If you're a naturalista, you should start your own hair care blog. All you would need to do is find a web name of relevance to hair care.
In your blog, you can post braiding tutorials for different protective styles, pictures of your curls before and after using a particular product, and even vent about the times when your curls wouldn't let you be great. You most certainly wouldn't be alone in that.
Source: Fashion Ghana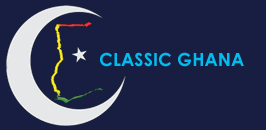 Latest posts by Classic Ghana
(see all)