President Nana Addo Dankwa Akufo-Addo has urged the military to maintain a healthy relationship with the civilian population in line with national integration and cohesion.
He urged the military not to use their uniforms to intimidate the civilian population, saying some few military were destroying such cordial bond.
The President was speaking at the Ghana Military Academy 2018 Graduation Parade Commission officers for the Regular Career Course 58 and Short Service Commission/Special Duties Course 56 in Accra.
The President said: "I am reminding you today that, your commissioning into the Ghana Armed Forces places great responsibility on you to guard against the temptation of using the uniform to intimidate your civilian counterparts."
He urged the newly commissioned Officers to remember that the civilians were natural counterparts towards the development of the nation and "whose tax provides the means for sustenance as members of the armed forces".
He urged the military to put into practice, the qualities of good leadership they had been taught in the academy by living an exemplary life and also ensure that the men under their command also did the same.
Nana Akufo-Addo said the drive to achieve national growth could not be achieved without upholding the principles of peace especially from the military.
The President assured the military of a number of infrastructural development to improve the livelihood and the work of the Ghana Armed Forces as government was aware of the infrastructure challenge of the Forces and the Military Academy.
He said the government through the Minister for Defence would take steps to wall off the remaining land of the Academy that had been taken over by encroachers, adding that plans were far advanced towards the building of a new state-of-the-art infrastructure to meet the standards of 21st century training institutions.
The occasion was used to commission 138 new officers with 23 for the Air force, 16 for the Navy and the 99 for the Army, which also included two allied cadets from the Republic of Guinea.
Senior Under Officer (SUO) Daniel Opoku Boadu won the highest honour of the day, Sword of Honour, which is awarded to the best all round Officer Cadet in the Regular Career Course 58.
Junior Under Officer (JUO) Appiah Akosua Serwaa was commissioned with the Military Cane, which is awarded to the best in Military Studies in the Regular Career Course 58.
She was also awarded with the Academic Cane, which is awarded to the best in academic studies.
Source: GNA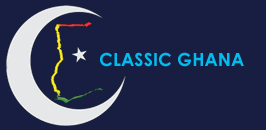 Latest posts by Classic Ghana
(see all)