The doctor-patient ratio keeps widening in the Northern Region as Statistics from the Ghana Health Service (GHS) show that the doctor-patient ratio in the region had increased from 1:8,859 in 2020 to 1:10,901 in 2021.
The situation was affecting health care delivery in the region was because doctors were not accepting postings to the region.
This formed part of the 2021 GHS Performance Report presented at the annual regional health review meeting in Tamale.
Whilst the doctor-patient ratio was increasing, the nurse-patient ratio was improving in the region.
The statistics showed that the nurse-patient ratio improved from 1:378 in 2020 to 1:369 in 2021.
Overall, the region scored 3.6 out of five in the assessment areas including sustainable, affordable, equitable and easily accessible health care services, which the report described as "Stagnant compared to the overall performance score of 2020."
The report recommended that GHS should ensure doctors accept postings and engage stakeholders to develop incentives to attract doctors to the region.
It also recommended the need for more efforts to reduce morbidity and mortality and intensify the prevention and control of communicable diseases through stakeholder engagements.
Dr Patrick Kuma-Aboagye, Director-General of GHS, whose speech was read on his behalf, urged stakeholders to support the GHS in its quest to enhance service delivery and improve response to the COVID-19 pandemic and future pandemics.
He entreated health workers to "Consolidate the gains made in 2021 to proactively meet public expectations on service provision and our renewed image as a true force to reckon with in quality and affordable health care."
Alhaji Shani Alhassan Saibu, Northern Regional Minister, called for collective effort from health workers and members of the public to complement the government's efforts to enhance health care and respond positively against the COVID-19 pandemic.
Colonel Alexis Appiah, a representative from the GHS Council, extended the Council's gratitude to health workers in the region for their selfless service and called on Management at the district levels to work on changing the perception of poor personnel care at health centres.
Dr John Eleeza, complained about encroachment and sale of bungalows belonging to health workers in Tamale saying the situation was making it difficult to secure accommodation for health staff.
Source: GNA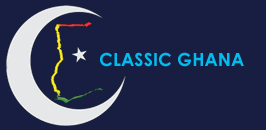 Latest posts by Classic Ghana
(see all)