Shatta Wale has counselled rapper Sarkodie to buy a car before he comes to advise him.
According to him, he finds it very difficult to comprehend how an individual who can not afford his own car can insult him.
In a freestyle video released Sarkodie titled 'My Advice', he attacked Shatta Wale and described him as an insecure attention seeker.
"Your brand [is not] strong enough, If it is strong then keep quiet. You will soon [leave]…You showed d***, one day you will show buttocks. The last thing [that I] want is attention," he rapped.
Sarkodie questioned the dancehall artiste's claim to wealth and asked him to stop wearing cheap jewellery.
"Who gives an f*** about your chicken change property…f*** all the bragging and chill because honestly your whole bank account couldn't buy you one tear rubber [Range Rover] Evoque but you claiming supremacy," he jabbed.
But in his first real no-holds-barred reaction interview Friday on the Super Morning Show on Joy FM with Daniel Dadzie, Shatta Wale urged Sarkodie to advise himself first.
"Don't tell me you want to advise me when you can't afford your own car," the dancehall act said.
According to him, he has several cars, most of which he has registered in his name. This, he said, same cannot be said about Sarkodie.
He advised the rapper to stop borrowing cars from people, stressing that Sarkodie's cars are not his that is why they are not registered in his name.
Shatta Wale recently bought a Mercedes Benz and registered it 'ADVICE 1-18'.
Making reference to that car, he said: "That is why I showed him [Sarkodie] that Benz."
Commenting on a line in Sarkodie's 'My Advice' in which the rapper said "If being poor be like me then father I beg you just bless me with poverty," Shatta Wale said, "That is just a fake line on the song."
He questioned why he "should I reply rapper when I am dancehall artiste? It is not done anywhere in the world."
"Sarkodie is a very small boy. He is my junior when it comes to music," he said and added that unless the rapper comes on the radio to apologise to him, they can not patch up things.
Source: myjoyonline.com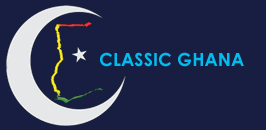 Latest posts by Classic Ghana
(see all)