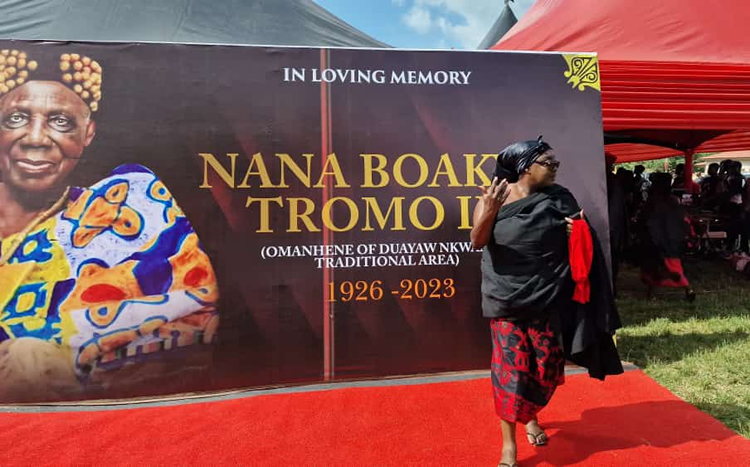 Dr Freda Prempeh, a Minister of State at the Office of the President on Thursday, led a government delegation to observe the one-week funeral rite of the late Nana Boakye Tromo II, the Paramount Chief of the Duayaw-Nkwanta Traditional Area in the Tano North Municipality of the Ahafo Region.
According to Nana Boakye Bonsu, the Akwamuhene and the Acting President of the Duayaw-Nkwanta Traditional Council, the late paramount chief died somewhere in 2022 after a short illness.
He reigned for over 50 years and was one of the longest serving chiefs in the Ahafo Region before his demise.
Dr Prempeh, also the Member of Parliament for Tano North constituency was accompanied by Mr George Yaw Boakye, the Ahafo Regional Minister, Mr Ernest Kwarteng, the Tano North Municipal Chief Executive, and the Ahafo Regional Executives of the New Patriotic Party (NPP).
She said President Nana Addo Danquah Akufo-Addo was saddened about the demise of the late Nana Tromo II and assured his government's support to give the late chief a befitting burial.
Meanwhile, economic activities in the Duayaw-Nkwanta township had halted since the observation of the one-week funeral rites begun last Tuesday.
Virtually, all the major shops, and stores as well as the Duayaw-Nkwanta market had been closed, as hundreds of mourners from spheres of life joined the traditional council to mourn the late paramount chief.
During a visit to the town, commercial vehicles, including taxis, and tricycles (praygia), the means of transport in the area, were not operating, leaving some travelers stranded hours at the Duayaw-Nkwanta
lorry station.
The solemn atmosphere in the township was greeted with the singing of dirges by some women from the royal gates, amidst firing of musketries by traditional warriors, dressed in ancient traditional warring
regalia.
Residents, including workers in the formal sector, who were sighted on the street and corners of the Duayaw-Nkwanta township were wearing either red and black apparel to signify the mourning of the late
chief.
All the basic schools in the area were opened, however, some parents did not allow their children to go to school.
It was a field day for some women traders in the town who capitalize on the celebration to cash in by selling red armbands, head gears, and other paraphernalia, specially designed to mourn the late chief.
Nana Bonsu, later told the reporters the traditional council was expected to announce the date for the pre-burial funeral rites (Doteyie) of the late paramount chief on Friday June 2, 2023.
By Dennis Peprah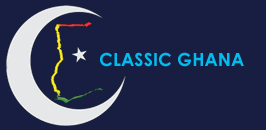 Latest posts by Classic Ghana
(see all)