There are a number of makeup mistakes that makes you look older and if your goal is to look your age or even younger than you actually are, you may want to consider staying away from them.
Choosing a dark lipstick
Lips lose their fullness over time, and using dark coloured lipsticks tend to make them look even smaller. On the other hand, mauves and pinks help to highlight lips and give the illusion of fullness.
A swipe of lip gloss will plump them up even more. If you do decide to go for a darker shade, pick a sheer formula or a stain, which aren't as flat as a heavier finish, or dab the colour on with your finger.
Go for a lip liner that matches the colour of your lips, rather than your lipstick. This will help you avoid an overly dark liner that will make your lips look pursed.
Using The Wrong Colour Foundation
Too light or too dark foundation will look dull and unnatural, instead of youthful and glowy. To pick the right colour when testing them out in the store, dab a bit on your face, rather than your hand, which can be a different shade. The colour should match yours even before it's blended.
Using The Wrong Concealer Shade
Covering up under-eye circles with a shade that's too light will accentuate your dark patches, the same way dark shadows will. Do your best to avoid green-based products, which will bring out shadows. Instead, pick colours with a peachy or yellow tone to neutralize the purple tones of under-eye circles.
Finishing With Powder
When you cover up the oil shine on your face with makeup, you also cover up the youthful glow that comes when your skin reflects the light. Swap out powder for blotting tissues, which won't highlight wrinkles in the same way makeup would. If you really can't help but use powder, dab it only on your chin and nose.
Skipping Your Eyebrows
As time goes by, eyebrows become sparser, especially if you have a history of tweezing them continuously. Fill them in with a product a shade lighter than your natural hair.
Applying Your Blush Wrongly
Swirling blush only on the apples of your cheeks leaves you with unnatural, unflattering circles. Applying it too far below the cheekbones, though, can drag down your face, giving a saggy appearance.
To Look younger, lightly brush it along your cheekbone, starting from the center of your eye and sweeping upward.
Lining Below Your Eyes
Eyeliners used below the eyes makes your eyes look smaller, while top liner opens them up. You should however be cautious. Harsh lines and dark colours will make your lids look heavy.
Apply a soft layer of brown or gray eyeliner to your top outer corner and then blend it out for a brightening effect. Complete your look by curling and applying mascara to only your top lashes.
Using A Dull Blush Colour
Unlike dark or brownish blush shade, bright colours make your cheeks look fuller and helps your whole face look younger and livelier. Cream formulas are ideal because they give an extra surge of moisture that you won't get from a powder.
Source: 360nobs.com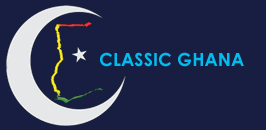 Latest posts by Classic Ghana
(see all)