LOVE songs seem to be the order of the day lately and although Ghanaians are enjoying these tunes, Hiplife musician Barima Sidney, thinks his colleague musicians must tackle pertinent societal issues with their songs.

According to Barima Sidney, although love songs were not bad, he believed there were a lot issues affecting the country that musicians could use their voices to bring out.
"I believe musicians have a powerful tool to change a lot of things in the country by addressing them in their songs instead of concentrating too much on love songs. As musicians, we can tackle issues like corruption, drug abuse among others," he told Showbiz on Tuesday, April 16.
Barima Sidney, who is known for doing socially conscious songs such as Africa Money, Enko Yie, Who Said Tweaa among others but has been away from the spotlight for a long while, says he is coming back with a new song titled Power, which tackles the ills in society.
"Everyone wants to acquire power but after that what else? I don't want to give away too much about the song but Power will be more than Africa Money which became one of the biggest songs to hit Africa," he said.
Asked what he had been doing while away from the Ghanaian music scene, Barima Sidney said he had been busy working on a project in Liberia.
"The Liberian President contracted me to build studios in the country and that is what I have been doing for the last few years. It was a big project but I glad I am through with that," he said.
Elections for the Musicians Union of Ghana (MUSIGA) will be held on June 26, and when asked if he was interested in contesting the presidency, Barima Sidney responded in the negative.
"If I wanted to apply for that position I would have done that long ago, but that has never crossed my mind. In fact I am not even a member of MUSIGA. That notwithstanding, Bice Osei Kuffour, aka Obour, has done so well as the President of MUSIGA," he said.
A lot of musicians who were popular back in the day have not been able to regain their former status after time off but Barima Sidney says it is very easy for him to break through again.
"I see myself as a new artiste anytime I come out with a new song and I make sure I go to all lengths to push my new song.
"I don't have any problem paying payola to the right DJs to play my songs. Ghanaians will be taken by surprise when I finally release my new song," he said.
A former member of the group Nananom, Barima Sidney, who achieved fame as a solo artiste when the group split, with songs such as Apuskeleke, Obia Nye Obiaa, Time Aso, Scent No and Awuche Kpongor, praised the likes of Kuami Eugene, KiDi and Medikal for taking Ghanaian music to the next level.
Source: Graphic Showbiz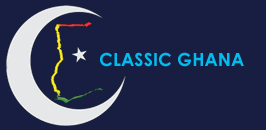 Latest posts by Classic Ghana
(see all)