A 19-year-old corporate communication student, Fatem Suy has been crowned Miss Côte d'Ivoire 2018 at the 22nd edition of one of Africa's most beautiful and prestigious beauty pageant.
Fatem Suy succeeds Miss Côte d'Ivoire 2017 Mandjalia Gbané and will be going to represent Cote d'Ivoire at the Miss World 2018 to be held in China in December..
She was followed by Jemima Gbato (4th year student in oil engineering and professional dancer) and Bakayoko Lathy (19-year-old first year student in economics and management at the University Institute of Abidjan) as the 1st and the 2nd runners-up respectively. Assadiya Kouablan (23 years old, master 2 student in marketing management option) and Mélissa Sery, (1st year marketing management student) won the 3rd and 4th runners-up positions respectively.
Speaking of her boyish cut and natural hair, Miss Ivory Coast 2018 Suy Fatem said, "while going to pre-selections for bouake, I did not take the job to heart. when I was elected miss bouaké, it made me realize a lot of things. like what, I could be natural and win in front of girls who are as beautiful as me but wicks instead of hair."
Fatem Suy came out the top of the final beauty contest which was attended by nearly 200 million viewers online, and was unanimously voted the queen by the jury.
Unlike the 25 other candidates, Fatem Suy had the audacity to present herself at the grand finale of Miss Ivory Coast with short hair, something unusual in the history of the beauty contest.
Her mother revealed a few of her childhood memories. "She spent her childhood in Bingerville at Sicogi 2. As a little girl growing up, she was ambitious. She always tell us; "You will not regret" And since her dad pays for her studies, she kept telling him that: "Dad, you're not going to regret."
She had her first year's high school diploma, two years ago and now at UCAO (Catholic University of West Africa) where she is a second year student in business communication.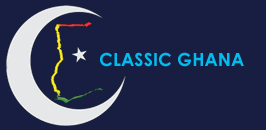 Latest posts by Classic Ghana
(see all)