As Black History Month wraps up, we highlight four sisters from Lake Charles, who are alive, in their 90s, and in pretty good health.
They've seen a lot of history; good and bad, but as time goes by, they seem to focus on the happy times.
Stella Mae Breaux's birthday last year was much cause for celebration. She turned 90, which meant all four sisters were in their 90s. The family gifts included "old lady gang" shirts for each with their ages on the back.
The birthday girl Stella Mae Breaux, turned 90; older sister Annie was 93 and turns 94 Sunday; even older sister Mildred was 94 and oldest sister Matilda is now 97.
Stella admits it's confusing.
"These birthdays crowd me!" Stella said.
When they get together, there's a lot of laughter; especially in the house they grew up in. Mildred and Matilda were not available, but 7News visited with Stella and Annie.
"Oh, we had so much fun in this house. You wouldn't believe it," Annie said.
The sisters are the last four from a family of eight girls and two boys. Stella Mae and Annie talked about how things were.
"If anything happened at your house with somebody else's child, you whip 'em," Stella said. "And when they go home and tell Mama they had a whippin' by so and so. They get another whippin' because you did something wrong for them to whip you."
"We played marbles. We played jacks. We went out in the field and played ball. We did a whole lot of stuff after we got our work done," Annie said.
Some of the history was not pleasant to live through.
"So much has happened. So, so much," said Stella.
"Mainly, Tom and Mac's; when they put that little shack up there they wouldn't let us come in. They wouldn't let us go inside to buy anything. You had to go around the back. Didn't appreciate that," Annie admitted.
Luckily, they made it through now seem to focus on the happy memories.
"On weekends, all our school mates would meet here and mom would let them come up. Mainly because they would be looking for spaghetti and cheese; that's what Mom cooked. That was her specialty for Sunday. Baked spaghetti and cheese and everybody came down wanting spaghetti and cheese," Annie said.
They attribute their longevity to their mother's good genes.
"We didn't drink and ate spaghetti and cheese all the time; macaroni and cheese…and boudin! We'd eat all that stuff," Annie said, though she admits she doesn't eat it so much now.
Source: Kalb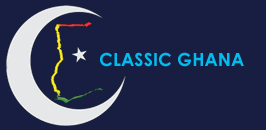 Latest posts by Classic Ghana
(see all)