The Research Scholar Initiative (RSI) program at Harvard University is a comprehensive program that accepts not more than 4 people each year. All over the world women are largely under-represented in the discipline of Economics. So, what pushed a 22-year-old to take a path in this gender imbalanced field?
Anna Gifty Opoku-Agyeman was born in Kumasi, Ghana, but moved to the States at a young age. Having recently graduated from the University of Maryland, Baltimore County (UMBC) with a B.A. in Mathematics and minor in Economics.
With the dream of having a Ph.D. in Economics, Anna in an interview shares her story in hopes of  encouring Ghanaian girls, and more broadly, Black girls to study math and economics.
Why Economics and how did your passion for it start?

When I was a teenager, my dad and I talked about Ghanaian politics a lot. We discussed how the next generation of Ghanaian leadership would depend heavily on the education children received today. I don't know why, but that lit a fire under my belly, and I became very passionate about understanding African development. I have since watched nearly every TED Talk with an African speaker or read magazine articles about the subject. [Becoming an economist] became my path before I even knew what that meant."
How did Harvard happen and what are the prospects you seek to achieve from your time there?
I was introduced to economics through many different people. Among those people was the director of the Research Scholar Initiative (RSI) program at Harvard, Dr. Shelia Thomas. I then saw her two more times over two years. I think Dr. Thomas saw that I was a hard-working student and very passionate about economics so she really wanted to see me succeed in the field.
The RSI program is very comprehensive, which is why it was my first choice out of all the opportunities I applied to. It is also super selective, accepting no more than four people each year. As a scholar, I take advanced coursework in math and economics, conduct research, and prepare for graduate school. I will be working with Dr. Peter Q. Blair, an Assistant Professor at the Graduate School of Education and primary investigator of the Blair-Economics lab. He has an amazing history of mentoring students so I am very excited to see my growth as a researcher and person at the end of this experience.
From Head Start to Harvard: a story of unconditional love, unwavering support, and unshakeable faith.

I am proud to announce that beginning this fall I will be a Research Scholar in Economics at @Harvard. The program will help me reach my next goal: getting a Ph.D. in Economics. pic.twitter.com/2Qs2hG24R3

— Anna (@itsafronomics) May 9, 2019
As a Ghanaian in the diaspora, how has your Ghanaian background shaped you?
My Ghanaian heritage makes up such a big part of who I am. Everything in my life can be tied back to that part of my identity: my love for economics and politics, passion for young people, fashion style, accent, laughter, work ethic, and the list goes on. [Being Ghanaian] is one of the most important parts of who I am and I always try to showcase that aspect of myself in the best possible light to pay homage to my family and the Ghanaian community at large.
What ways have you made an impact on Ghana?
In the recent past, I helped a small hospital in Bekwai, Ghana raise money for a new computer that is now being used to manage their hospital system and records. The hospital informed me upon my last visit that they are now looking to operate their hospital using digital records, which is amazing.
This past year, I decided to look at one barrier to education for Ghanaian children: health. Even though everyone in Ghana is at risk for malaria, experiencing it at an early age can have negative effects on a child's long-term outcomes. For my project, I asked whether early childhood malaria had a negative impact on school progression among 12-16-year-olds in Ghana. What I found was that children from regions with high early childhood malaria risk were more likely to stay back in school or drop out. It is my hope that I can share what I found with health and education professionals in the country.
Tell us more about sadiecollective.org and the challenges and strides made so far.
The Sadie Collective is an organization that empowers and equips Black women in the quantitative sciences by addressing the pipeline and pathway problem in economics, finance, data science, and public policy. I co-founded the organization with my friend, Fanta Traore, in August 2018. We became inspired to start the organization after learning that the number of Black women in the economics profession is low and each year less Black women are entering the profession. Today, I am serving my second term as the CEO of the organization.
This past February, we hosted the first U.S. conference for Black Women in economics at Mathematica in Washington D.C. The event sold-out almost immediately, with over 100 guests in attendance and esteemed speakers from across policy, academia, and industry. Our organization and conference made a huge splash in the economics community, and we have since been featured in several outlets, including but not limited to Forbes, NPR, Bloomberg, Ms. Magazine, and Wharton Business Radio.
Our biggest challenge to date is keeping up with the work of managing the organization while being students and research assistants at different institutions. There's so much to do, but the recent expansion of our team has made this task easier. Honestly, I am just honored to be working alongside a team of brilliant, selfless, and incredibly kind Black women.
Are you planning to return to Ghana and work with other NGOs or stay permanently at a point?
Yes, I really want to move back at some point or frequent travel between the U.S. and Ghana. Honestly, since I am very interested in labor economics, which deals with topics like education and employment, I really hope that I can serve the Ministries of Education and/or Employment and Labor Relations at some point in my career.
Source: Ameyaw Debrah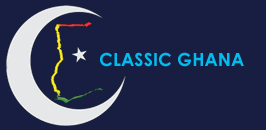 Latest posts by Classic Ghana
(see all)