George Clooney made more money last year than any actor over an equivalent period – thanks in part to the sale of the tequila company he co-founded.
Forbes estimates the 57-year-old star made $239m (£180m) in pre-tax earnings in the year beginning 1 June 2017.
That puts him second in its annual list of the world's best-paid celebrities, a place behind boxer Floyd Mayweather.
Kylie Jenner is placed third in the Celebrity 100 countdown, having made an estimated $166.5m (£125.5m) last year.
Earlier this month Forbes said the social media star was on track to become "the youngest-ever self-made billionaire".
U2, and British acts Coldplay and Ed Sheeran are also included in a top 10 alongside global football stars Lionel Messi and Cristiano Ronaldo.
The Celebrity 100 list ranks "front of the camera" stars around the globe using their estimated pre-tax earnings from 1 June 2017 to 1 June 2018.
Here's the top 10 in full:
1. Floyd Mayweather – $285m (£215m)
Money Mayweather earned $285m in pre-tax annual earnings last year, and in doing so captured the top spot on Forbes' 20th annual ranking of the world's 100 highest-paid celebrities.
The boxer's August 2017 fight versus Conor McGregor generated more than $550m (£415m) in revenue, with the fighter pocketing $275m of that.
This is Mayweather's second number one spot on the Forbes list – the other was in 2015.
2. George Clooney – $239m (£180m)
Clooney's mammoth payday comes from the sale of his Casamigos tequila company to drinks giant Diageo in a deal worth $1bn (£753m).
The star, who was recently injured in a motorbike accident in Sardinia, founded the company in 2013 with friends Rande Gerber and Mike Meldman.
3. Kylie Jenner – $166.5m (125.5m)
The youngest of the Kardashian sisters, Kylie Jenner has earned her place at number three after founding a cosmetics empire.
A family reality show and 110 million followers on social media has also done its bit to help. Forbes magazine says Kylie is now worth almost three times as much as her sister, Kim, at an estimated $900m (£680m) and is on her way to becoming the youngest self-made US billionaire.
The 20-year old was a newcomer on the list last year, but has since had quite a significant jump up from 2017's 59th place.
4. Judy Sheindlin – $147m (£110.8m)
Judy Sheindlin, AKA Judge Judy, comes fourth in the countdown with estimated earnings of $147m (£110m).
Judge Judy's been on the air for 22 series and is watched by an average of more than 10 million viewers a day.
She sold the rights to her extensive library for an estimated $100m (£75m) in 2017, which accounts for this year's high listing.
5. Dwayne 'The Rock' Johnson – $124m (£93.4m)
Dwayne Johnson, the wrestler turned actor also known as 'The Rock', is ranked fifth with an estimated pre-tax tally of $124m (£93.4m).
The 46-year-old's acting-related earnings – the vast majority of his $124m haul – are the largest ever recorded in the 20 years Forbes has tracked the Celebrity 100.
6. U2 – $118m (£89m)
U2's Joshua Tree world tour in 2017 – followed closely by a second current world tour – has seen the Irish band's earnings jump up considerably.
2.7 million fans turned out to mark the band's 30th anniversary of their seminal album – making it the most lucrative outing for any artist last year.
7. Coldplay – $115.5m (£87m)
Coldplay are the first British act on the list. Putting them there was their A Head Full Of Dreams Tour, which grossed more than half a billion dollars (£377m) in its two-year, five-continent run.
That total means Coldplay trails only U2's 360 Tour and The Rolling Stones' A Bigger Bang Tour on the list of all-time highest grossing tours.
8. Lionel Messi – $111m (£84m)
In November 2017, Messi agreed a contract extension with his club Barcelona that will pay him an annual salary and bonus in excess of $80m (£60m), making him the highest-paid footballer.
Add to that a lifelong deal with Adidas and other sponsorship contracts, including Gatorade, Pepsi, Ooredoo, Huawei and Hawkers, and things are looking pretty tidy for Leo.
A theme park based on the Argentinian, the Messi Experience Park, is set to open in 2020 in the Chinese city of Nanjing.
9. Ed Sheeran – $110m (£83m)
Sheeran is the world's highest-earning solo musician on the list.
The 27-year old was the world's most streamed artist of 2017. His album ÷ was the biggest album of the year, racking up 3.1 billion streams around the world, while Shape of You became Spotify's biggest track of all time.
10. Cristiano Ronaldo – $108m (£81m)
He was one of the World Cup's top scorers, and this year also received his fifth Ballon d'Or.
Having spent a lucrative nine years at Real Madrid, the football star made a £99.2m move to Italian side Juventus earlier this month.
His lifetime contract with Nike is worth upward of $1bn (£754m).
Source: BBC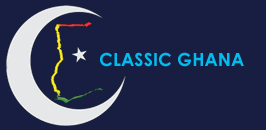 Latest posts by Classic Ghana
(see all)