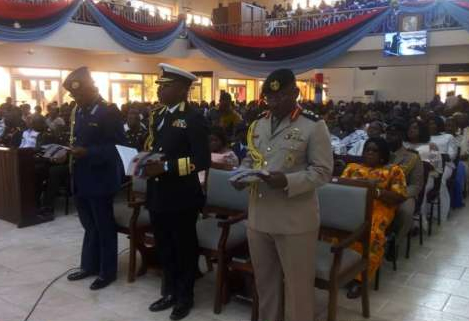 The Ghana Armed Forces (GAF) on Sunday held a Religious Induction Ceremony for the new Chiefs of the Naval Staff (CNS), Air Staff (CAS) and the Staff of the General Headquarters (COS) into office.
The Induction ceremony was held at the Garrison Methodist-Presbyterian Church in Accra (Burma Camp).
The three inductees were Rear Admiral Seth Amoama (CNS), Air Vice Marshall Frank Hanson (CAS) and Major General Thomas Oppong-Peprah (COS) of General headquarters.
Speaking at the ceremony, Lt General Obed Boamah Akwa, the Chief of Defence Staff (CDS) said, the induction was to seek God's blessings and also to build a good cohesion within the GAF at all times.
"This ceremony is meant to build loyalty and cohesion so that they (inductees) can be able to defend the territorial integrity in all dimensions of the country," he said.
Lt Gen. Akwa said, the loyalty of the new inductees was never in doubt but they should continue pledging loyalty to achieve their goals.
He congratulated the newly inducted officials and urged that they should be given the necessary support to enable them to function well.
Reverend Captain (General) Paul Adjei-Djan, the Senior Chaplain, who inducted them, asked for God's blessings to be upon them in their respective endeavours.
He urged all the senior officers and civilian employees to affirm their dedication, loyalty, support and cooperation to them at all times.
Rear Admiral Seth Amoama, the CNS, on behalf of the other two inductees thanked Nana Addo Dankwa Akufo-Addo, President of the republic and the Commander in Chief of the GAF for the confident and trust reposed in them. He said the opportunity to serve in their various capacities at this time of the country's history was an honour.
"We will also use this opportunity to thank the immediate predecessors for the good leadership of the Armed Forces and making very valuable contributions to the people of the Armed Forces. And stepping into their shoes will be a very difficult one but with the leadership of the CDS, we hope to make the necessary impact to help in the growth of the GAF," he added.
Source: GNA
Classicghana.com is a platform to informed visitors of News, fashion, photography, lifestyle, beauty, videos, arts & entertainment, and more.
Photojournalism is our main medium of telling news stories to our visitors.