Ghana moved up four places to rank 41st ahead of the United Kingdom (UK) and United States of America on the list of the most peaceful countries in the world.
Ghana ranked ahead of the UK – which fell six places to 57th, while the United States of America (USA) sits at 121st.
The West African country also placed fifth among the African countries on the list behind Mauritius (20th), Botswana (29th), Sierra Leone (35th) and Madagascar (38th) on the rankings based on a report from the Institute for Economics and Peace, a global think tank headquartered in Sydney, Australia.
It takes into account statistical factors such as murder rates and military expenditure, as well as perceptions of criminality and terrorism levels. The factors are combined into a single number listed in the Global Peace Index (GPI). The lower this is, the safer a country is regarded.
"The 2018 GPI reveals a world in which the tensions, conflicts, and crises that emerged in the past decade remain unresolved, resulting in this gradual, sustained fall in peacefulness," says the Institute.
"Although in some instances long-running conflicts have begun to decline or at least plateau, the underlying causes of many of these conflicts have not been addressed, and the potential for violence to flare up remains very real."
According to the report, the global level of peace has deteriorated by 0.27% over the last year. This is the fourth successive year of deterioration, finding that 92 countries have deteriorated, while 71 countries have improved.
The report reveals a world in which tensions, conflicts and crises that have emerged over the past decade remain unresolved, causing a gradual, sustained decline in global levels of peacefulness.
A total of 92 countries deteriorated whilst 71 countries (including Ghana) improved between 2016 and 2017.
The report also found that Syria (162), Afghanistan (162), South Sudan (161), Iraq (160) and Somalia (159) are the least peaceful countries in the world while Iceland (1), New Zealand (2), Austria (3), Portugal (4) and Denmark (5) are the most peaceful countries in the world.
View the entire Global Peace Index 2018 rankings below;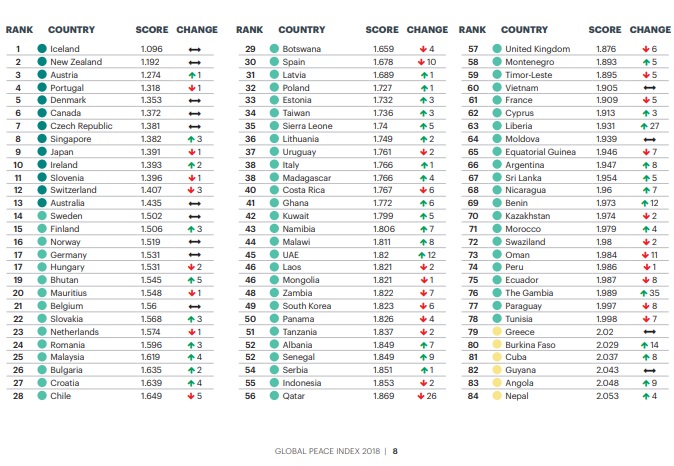 Source: Daily Graphic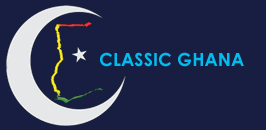 Latest posts by Classic Ghana
(see all)