Youth Action for Development, a group claiming affiliation with the National Democratic Congress (NDC), has called on Mr Augustus Obuadum Tanoh, popularly known as "Goosie Tanoh" to contest the Party's Presidential candidature for the 2020 general election.
Mr Kwame Kwamuar, convener of the group of about 1,000 members, at a News conference in Ho on Wednesday said Mr Tanoh was well positioned to steer the NDC to victory in 2020.
"After a careful participatory analysis of the NDC's tasks and its leadership resources, we have concluded that Comrade Goosie Tanoh is the person best placed to lead the NDC's internal re-organisation, restore credibility, promote wholesome values and to carry the NDC's flag into the 2020 elections", he Stated.
Mr Kwamuar noted that the Party's campaign strategy failed to appeal to the masses, and that instead of clear messages, its activities were blurred with "character attacks and glamorous theatrics".
"In 2016 we lost not because NPP ran an impressive campaign or had an attractive candidate. We lost because the public or even our own activists had lost confidence in our leadership and failed to campaign effectively or even vote", he said.
Mr Kwamuar said they at the grassroots looked up in vain to a re-organisation that would resurge confidence in the NDC, and had therefore taken up to "reclaiming" the party.
"We are re-building an NDC that is committed to the voluntary, selfless activism that mobilises working men and women and our teeming youth to develop our country and build prosperity for all- and not just a few.
"We are committed to giving Ghanaians capable, participatory, transparent, and accountable leadership for planned development", the conveyor stated.
Mr Kwamuar said Mr Tanoh had been working on the "dark side" of the limelight for some time, actively supporting and promoting grassroots' activities in particular within the Party.
He further referenced Goosie's history with grassroot activism, which he said began with opposition to military rule as a student in the 1970s.
Mr Kwamuar said Mr Tanoh was familiar with the NDC's history and knew its vision, and asked him to avail himself for party and national service.
"Comrade Goosie, we hereby demand that you answer this call and put yourself at the service of your Party and nation- whatever sacrifice this requires," Mr Kwamuar stated.
Mr Tanoh served as National Defence Committee Member under the PNDC government, as well as a delegate at the General Assembly of the U.N Security Council in 1986, and was also a member of the Consultative Assembly which wrote the country's 1992 Constitution.
He left the NDC in 1999 to form the National Reform Party, and re-joined the NDC in 2007 upon the request of late President Atta Mills.
Source: GNA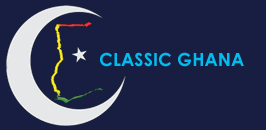 Latest posts by Classic Ghana
(see all)