American rapper, Kanye West on Thursday reportedly lost 9 million followers on Twitter within 10 minutes following his Twitter tirade praising the United States President, Donald Trump.
A slew of celebrities have unfollowed and spoken out against West's tirade. Perhaps most shockingly, members of Kardashian's family also unfollowed him on Twitter, including Kylie Jenner, Khloe and Kourtney Kardashian.
West, a 21-time Grammy award winner, published dozens of tweets on Thursday morning (NZ time) on a number of varied topics, including his love of Trump, according to News Hub.
"You don't have to agree with Trump, but the mob can't make me not love him.
"We are both dragon energy. He is my brother," Kanye West said.
The News Agency of Nigeria reports that celebrities, including former friends of the 'Gold Digger' rapper have unfollowed him on Twitter, including Harry Styles, Kendrick Lamar, Rihanna, John Legend and Chrissy Teigen.
Stephen Colbert addressed the series of tweets in a new clip for The Late Show.
After quoting West's tweet where he said ,"we have the right to independent thought", Colbert quipped: "I independently think that Kanye has lost his mind."
"Brother to brother, I just want to say – put the phone down," the comedian pleaded.
Actor and rapper Ice T wrote a succinct summary of his feelings, saying he was, "done" with the rapper.
Close friend, John Legend wrote a series of tweets which did not directly mention West, but appear to be calling him out.
Legend concluded with: "The defining trait of Trump's campaign and political profile was his embrace of white supremacy.
"He made it clear every time he spoke. Some serious cognitive dissonance to ignore that for the others you might find appealing."
However, fellow musician, Chance the Rapper however, tweeted his support for West.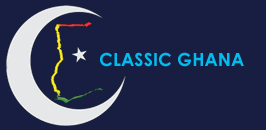 Latest posts by Classic Ghana
(see all)