Whilst others are putting in much effort to be recognized as a Slay Queen, actress, Christabel Amoabing who featured in the hit "Yolo" TV series has distanced herself from the tag.
In a conversation with blogger, Zion Felix, the young actress who was characterized as "Lydia" in the YOLO series was asked if she's a Slay Queen and she said, "please I am not a Slay Queen".
According to Christabel, she is not fit to addressed as such because she only dresses decent and for nothing more beyond that. "I don't slay, I've just dressed, I look decent it doesn't mean I am a slay queen," she told her interviewer.
When asked if she means Slay Queens do not look decent, the coy actress only giggled before going ahead to talk about her career and how she got cast to be in the Yolo series.
Detailing how it all started for her, Christabel mentioned that though she was once a member of her High School's drama crew, she didn't set out after that to be exactly be on TV.
According to the budding actress, whilst in level 200 in University Ghana, a friend only informed her about some auditions for a movie which they later went to and she was later picked and her friend missed the opportunity.
Talking about life after YOLO, Christabel says that it has fetched her some exposure for billboard ads, TV commercials and other movie roles as she has also started her own YouTube-based TV Show. However, she says she is working and not desperate for movie roles but she will accept any that comes her way.
Source: Pulse Ghana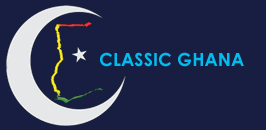 Latest posts by Classic Ghana
(see all)