Illegal miners in their bid to outwit the state apparatus working to rid them off have now adopted "mining in the room" approach to get the gold illegally.
These illegal miners especially the Chinese have adopted a dangerous method of acquiring gold in their residence regardless of the health implications to the households and the community.
Squadron Leader Robinson Omane Agyei, PRO of Operations Vanguard told the GNA that illegal miners especially the Chinese were bringing the black soil (ore) into the communities, households and do the processing for gold in their bedrooms.
They apply chemicals such as cyanide, mercury and others and disposed the waste into the home environment.
The PRO said Humans, livestock, poultry, water, the air had been exposed to the chemicals and their associated illnesses.
He mentioned that silicosis, silico-tuberculosis, pulmonary tuberculosis (TB), obstructive airways disease, occupational asthma, oral and/or nasal cavity erosions, diseases owing to ionising radiation, noise-induced hearing loss, whole body and hand-arm vibration syndrome, as well as repetitive strain injuries as a result of such chemicals.
He therefore appealed to the general public to assist Operation Vanguard to save the environment of the dangerous chemicals.
Source: GNA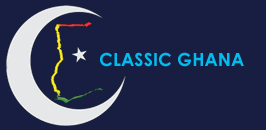 Latest posts by Classic Ghana
(see all)