CEO of Brommon Bespoke, Kweku Boateng Akuoko, is one of the few fashion designers to have the President of Ghana as part of his clientele.
The fashionista has had the privilege of producing suits for president Akufo-Addo and his vice, Dr Bawumia.
Taking his turn on 'Keeping It Real' with Joselyn Dumas, Kweku Boateng Akuoko revealed how he got connected to two of the most respected Ghanaian public figures.
"One of the daughters approached me. She had obviously seen my work. She wanted me to do something for her father. I said of course…great. She called some weeks later and [said] 'I can't get you an appointment. I am gonna come see you, bring you one of his outfits so you can play about and see what you can come up with."
"Normally I don't do that. I would rather go see the client, take the measurements. I had to make an exception to this one because I couldn't lose that gig. She brought it, I played about with the pattern and everything. In the end, I gave it to her to deliver it", he recounted.
Kweku Boateng Akuoko said the president's daughter later told him that her father got the best compliments when he wore the suit to the office.
He revealed he secured an appointment with the president at the Jubilee House after Nana Akufo-Addo asked to see the designer.
"He called his daughter [and asked] who made this suit? And then I went to Jubilee House and I felt really proud", he said.
The fashionista also revealed that he got connected to the vice president through a friend who worked with Dr Bawumia before he assumed office.
Source: myjoyonline.com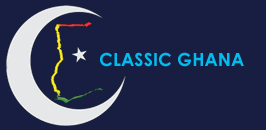 Latest posts by Classic Ghana
(see all)