THE first impression one might possibly have of a one-cast play is that it will be boring but not Globe Productions latest play, 5 Hours with Mario which was shown at the Accra International Conference Centre(AICC) on Saturday September 3.
To say it is exciting will certainly be an understatement because the audience were indeed thrilled with the play.
The play which is an adaptation of Spanish writer, c' 5 Hours With Mario is in partnership with the Spanish Embassy in Ghana.
5 Hours with Mario tells the story of a wife who is emotionally in love with her husband but hates everything about him.
It is set in the living room of the couple where the dead man has been laid in state while his wife is holding a one-man wake-keeping for him. This is where Dzidzor, the widow, played by Naa Ashorkor pours her heart out.
She has been married to Mario for 20 years and from her rantings, she did not enjoy her marriage one bit. She pours her heart out in a long monologue.
"You were a teacher, have you seen a teacher millionaire before? Who advised you to be a writer, the writing wasn't working. I had to lie about your profession when people asked me.
"I know teachers who are honourable and do side jobs but you organised extra classes and charge GHc2. Your books were incredibly boring. You always came home so late and tired.
"God, please wake my husband up so he can feel my pain.
"Of all the useless men in the world, you are the most useless. In your entire life, you achieved nothing.. Look at your end, miserable. Marrying you was the biggest mistake of my life.
"Your only award as a teacher was a standing fan. Did you love me at all? That doesn't matter anymore now. Why did you hate everything that I loved?
At this point Dzidzor goes for a big bowl of gari fotor to add to the bottles of beer she has been drinking.
"Today, I am feasting in memory of your miserable life. You owe the landlord four years rent, who should pay?
She goes on and on and on, suddenly there is an interruption. An angel of the Lord speaks to her and tells her that she cheated on her husband by sleeping with Peterson and needs to apologise to her late husband.
Dzidzor obeys the angel and confesses events leading to her infidelity. It was a very emotional scene as the poor widow shed tears asking for forgiveness from her late husband.
Acting was spot on as Naa Ashorkor nailed the role keeping the audience alive and excited throughout the play.
5 Hours with Mario was also interspersed with some good music like Black Sherif's Kwaku The Traveller and Lasmid's Friday Night.
 The AICC will on Sunday, September 4 again play host to Latif Abubakar and his Globe Productions' 5 Hour with Mario. 
Source: Graphic Showbiz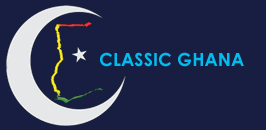 Latest posts by Classic Ghana
(see all)