A 27-year-old graduate of the University of Education, Winneba with a degree in Accounting, Miss Angelina Ampofo Asomaning, is using her talent, rather than her certificate, to make a living.
She has defeated unemployment with her artistic ability, ending the anxiety of searching for a job after national service.
Unemployed
It was during a challenging moment in 2019 after her national service in 2018 when Ms Asomaning decided to commercialise her talent with the name Abena Oyiwaa Art.
Today, she is building a kingdom of 'fine of art' with painting and drawing and is happy about the encouragement she had from family and friends to change her unemployment status.
Abena Oyiwaa Art
Abena Oyiwaa Art is a self-taught female artist with no background in artwork.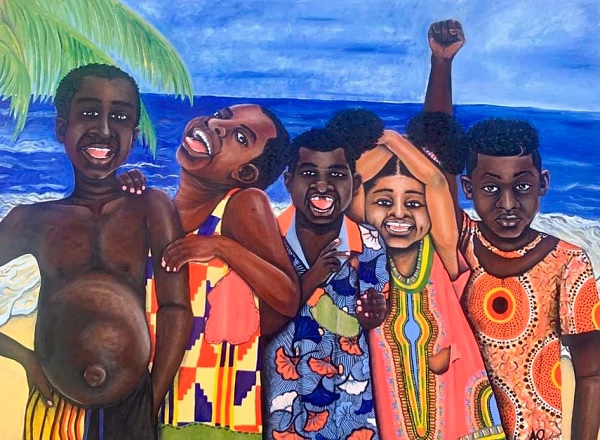 This piece encourages black people to embrace their skin as beauty and strength
She told The Mirror in an interview that art was her hobby at a very early age and it became a passion when she entered Aggrey Memorial AME Zion High School in Cape Coast.
Though Ms Asomaning was earlier doing more of pencil art, she realised she needed to do more challenging artwork and reached out to an artist, Ahmed Partey, on social media for some guidance.
For her, staying tuned in emerging colourful acrylic canvas painting ideas, including beautiful art pieces which tell a story, is very important.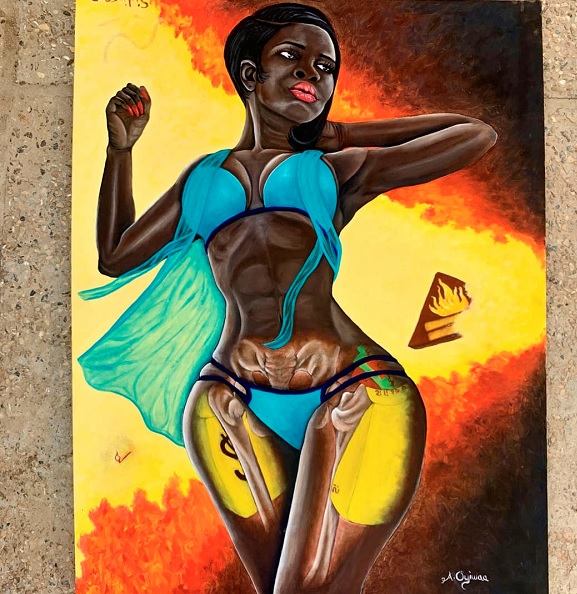 Through Ahmed Partey's guidance, Abena Oyiwaa Art was able to finish her first acrylic painting on canvas and "since then l have been focusing on painting with acrylics and oil paints".
Canvas for acrylic painting is a traditional support for painting made from tightly stretched unbleached cloth or a closely woven fabric.
It is usually made from either linen or cotton and then stretched over a frame or glued to a panel.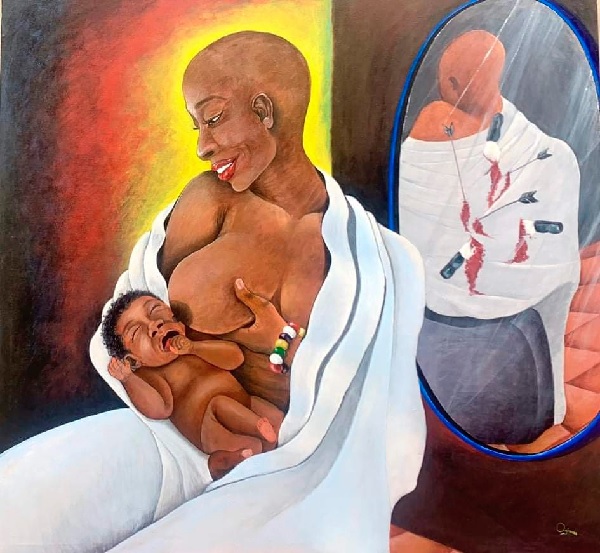 Currently, painting is what she does for a living although she explained that she was open to new opportunities in relation to arts.
She said her artworks were mostly inspired by women and children, their emotions and how they influenced the society.
Some of the artworks are so large and come with a concept of beauty, challenging society to accept everyone, especially women, as beautiful creatures irrespective of their skin colour, body curves, hair type and all physical features.
"Per the artwork, acceptance is one way to appreciate the uniqueness and potential within one another," she stressed, indicating that sometimes creating those works involved some hours of long standing depending on the size of the art piece.
"If the size is less than A3, I can finish in a day but most of my works take three to four weeks because of the size. The current one l am working on might take a month. Also, oil paint takes weeks to fully dry," she explained.
Titles
Some of the masterpieces Ms Asomaning showed this reporter had titles such as SHE, Adinkrahemaa, Peace Within and Individuality.
According to her, painting was a thing she could do at anytime of the day, disclosing that she mounted her first exhibition in November last year at the WORLAFEST 2020, in collaboration with other artists.
Although she normally showcased her artworks on social media, she said the new media was a very supporting tool as it created an opportunity for her to sell some artworks to clients all over the world.
Depending on size, her pieces cost between GH¢600 and GH¢4,000.
"The only difficulty with the use of social media is that it takes time to find the right buyer for an artwork but in the end the wait is worth it," Abena Oyiwaa Art observed.
Explaining to this reporter that the business was very lucrative, she noted, however, that it required a support base from family and friends to be able to progress.
Abena Oyiwaa Art who works with oil paint, acrylic paint, pencil, easel, palette knife and stretched canvas urged young people to chase their dreams.
"It might take long to get your audience but if you are consistent with your art, you will surely get there," she said.
Source: Graphic Online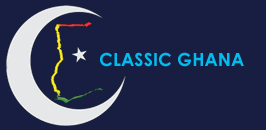 Latest posts by Classic Ghana
(see all)