IT seems like yesterday but it's been 10 years already since Rap Dacta, Okyeame Kwame, and his beautiful wife, Annica, tied the knot. Yesterday, January 16, marked their 10th wedding anniversary.
Showbiz had a chat with the Woso hitmaker before the milestone and he made some interesting revelations about the journey he and Annica have had so far.
"The journey has been extremely amazing, it gets disheartening, then amazing. It is a roller coaster of all sorts of experiences, a potpourri of everything but in a nutshell, I will say it has been extremely amazing," he said.
Of course it hasn't come without some challenges and Okyeame Kwame didn't hesitate to share them with us.
"There have been lots of challenges such as role conflict; she is my manager and as a manager, she has to manage me and as a man I have to lead.
"How do you give her the leadership role? There has to be a clear distinction of leadership roles but I must admit that she has great leadership skills from the office to home.
"Then, there comes a time you go to town and meet this beautiful girl but because you have promised to be faithful, you look away. Children also come in the way, they get all the attention," he said.
Okyeame Kwame also spoke about some personality differences which sometimes become a challenge. "When I am stressed I want attention but when she is stressed, she wants to be left alone.
"When there is a misunderstanding, what you have done is disingenuous instead of foolish," he stated.
In spite of all these challenges, Okyeame Kwame and his wife intend to be together for a very long time.
"Our plan is to hold hands when I am 80 years and she is 70 so all these challenges are not really problems but little misunderstandings."
Asked what he loves best about Annica, this is what Okyeame Kwame had to say. "I love her buttocks; they are rounded like ancient Akan wisdom. I also love her intelligence and I like the way she takes care of the children.
"She is such an amazing mother; I can be gone for two months and she will take care of everything from school fees to anything.
"You see, we do not have a househelp so if I am not around and she has to attend a meeting which could fetch her a million dollars and her children cannot be with her since there is no one to take care of them, she will let go," he explained.
Okyeame Kwame stressed that he has no regrets whatsoever choosing to spend his life with Annica. "I have been really fortunate.
"If I die and come back, I will choose her again. If I wake up in paradise and she is not there with me, I will commit suicide. She is just an amazing person and I love her to bits."
What's going to be new going forward? "When a relationship is getting older, it becomes boring. Now that we have clocked 10 years, I am going to device different means of keeping the spark alive.
"I am going to give her the opportunity to take care of her leadership skills. I am going to give her more leadership power.
"I am going to work harder and study harder because women like to brag about their men so I am going to get a PhD so she will be proud of me.
"I am going to make more money so she can have her world travels. I am also going to hit the gym to get more muscles so that when she leans on me, she won't lean on bones," he said.
"We are also working on a book together titled Before You Say I Do. I will encourage her to finish it so we can publish it. We will also go to the universities to talk to young people about relationships," he concluded.
Source: Graphic Showbiz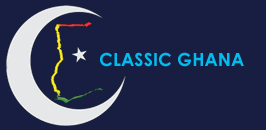 Latest posts by Classic Ghana
(see all)