A total of 403 army recruits have been inducted into the Army Recruits Training School (ARTS) at Shai-Hills, in Shai Osudoku District in the Greater Accra Region, with a call on them to be devoted to the profession.
Colonel Francis Anemana, Director, Army Peacekeeping Operations, Ghana Armed Forces, made the call at the Induction and Religious Parade for the first batch of the 2018 Basic Infantry Training Course 2018.
He said a military career is a calling and not a mere job opportunity as it demands total sacrifice of the life of a person enlisted, to forsake pleasure, family, acquaintances and personal interests to protect lives and keep the peace of the nation, even at the peril of the soldier's life.
Col Anemana said persons looking for jobs to keep body and soul together must look elsewhere, away from the military, since that security institution denies the soldier closeness to one's spouse, children, holidays, weekends and many other pleasures.
A total of 407 persons were admitted to the training school on Friday, July 20, 2018, but after eight weeks of preliminaries, four persons deserted the camp, leaving 403 for the induction parade (with three men already in clutches due to injuries suffered from the compound's uneven surface), which formally admits them into the recruits training school, after which they will enlisted into the Ghana Army.
The training period of 24 weeks, is designed to whip away laziness, lousiness, looseness, idleness, lack of self-control and to inculcate discipline, dedication, selflessness, self-control, physical fitness, motivation, teamwork and esprit de corps, in the recruits at passing out.
Among the many dignitaries present at the function were, the District Chief Executive of Shai Osudoku, Daniel Akuffo, Lt-Col ELS Gyadu – Commanding Officer of the ARTS and traditional rulers.
Source: GNA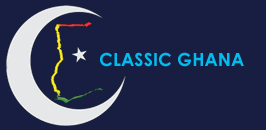 Latest posts by Classic Ghana
(see all)