Chief Executive Officer (CEO) of Exclusive Events Ghana, Inna Patty, says the Miss Ghana brand will continue to be motivated in reaching for the best and there are no immediate plans to hand over the organisation of the pageant to any other outfit.
This is in response to a Graphic Showbiz article written by Arnold Asamoah-Baidoo that Exclusive Events Ghana and Inna Patty should "step aside" in organising the pageant.
She expressed regret about what she described as "some media and mafias constantly trying to discredit the brand and also taint its hard-earned reputation."
According to her, the standards for being crowned as a Miss Ghana queen are high since the pageant still symbolises 'beauty with a purpose' and represents Ghana globally.
Owing to this, she indicated that the ambassadorial duties of each titleholder or her runners-up must be executed without compromise, even if it means parting company with these representatives/queens who had previously willingly signed up to its responsibilities.
"It's not about me or any other person but about the quality of the brand and what the brand represents and we will continue to uphold it," she told NEWS-ONE.
She described as inaccurate claims by the Graphic Showbiz's columnist that during Inna's reign as Miss Ghana 2004, she and other winners took the then Miss Ghana organisation, Sparrow Productions, to court; suggesting it was one of the reasons Shirley Frimpong Manso handed over the pageant's organisation back to Media Whizz Kidz.
But Inna Patty pointed out that it's a pure fabrication of lies and a deliberate agenda to soil the Miss Ghana Organisation.
"It is a lie. I have said this over and over again… I would expect more professionalism and a bit of research to bring out the truth not to propagate such lies time and again. The court records are there to buttress the undeniable fact that I did not take Sparrow Productions to court but other queens did. Some people have just decided not to listen but be mischievous and I am surprised reputable mediums are giving them their platforms. It is unfortunate," Inna Patty said.
"It is also surprising that the writer/Arnold claims that Exclusive Events Ghana picks and chooses which allegations to respond to… That's not true. If any research had been done by them, he would have known that we responded to all these allegations. Consequently, these wild derogatory and defamatory allegations by such 'irresponsible and unsuccessful former queens' and their cohorts have been referred for legal action. It is only a matter of time when the truth will be revealed," she added.
She concluded that the Miss Ghana Foundation would continue to fulfil its commitment to the brand, including its social responsibility projects such as scholarships to over 50 beneficiaries, mentorships across senior high schools on feminine hygiene, empowerment, women in IT campaigns, grooming/soft skills training, surgery for children suffering from scoliosis, UNAIDs campaign on protect the goal- HIV prevention awareness campaigns and periodic blood donation drives.
The rest include the Don Bosco Project and the commencement of an orphanage and a skills development centre in the Western Region, clean-up campaigns, tree planting and provision of water.
Inna Patty appealed to all to help support and promote the Miss Ghana and its affiliated brands since it remains a "national heritage" and pledged to continue to improve its positive legacy.
Source: dailyguideafrica.com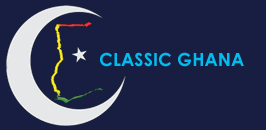 Latest posts by Classic Ghana
(see all)