DIVORCE can be quite a heart-breaking experience and when that time comes, you try to draw strength from many places. Some find solace in God, alcohol, drugs or anything but for former Miss Malaika, Hamamat Montia, she found strength in her twin girls.
"You know when things did not go as planned, it was painful, it hurt but I had to be strong. I looked around to find what could keep me going then one day, I heard my daughters say to each other that they wanted to be like me when they grew up and that was the wake up call for me, that I had to pick up the pieces and move on.
"If not for anything at all, I want to be that great woman, that strong mommy they can look up to. I was expected to look someway because my partner had moved on way earlier than I expected but no, I didn't, I stood my grounds and today, I am here, I just want to give my children a reason to be happy," she told Showbiz.
While she would not give details about what led to her marriage ending, Hamamat accepted that she also contributed to the divorce.
"I would blame myself too because it takes two people to make it work but if I am not in a happy place, I will not stay there because of my children, no, I need to leave to be strong and hold them down when the need arises.
"I know there are lots of women who are in marriages that are causing them pain but are staying with the excuse that they want the best for their children but no, you cannot hold your children down when you kick the bucket, when you are devastated etc," she said.
Hamamat's experience has taught her valuable lessons and she told Showbiz that if her daughters should find themselves in the same position, she would advise them to choose happiness.
"Like I keep saying, if I stay in it and I am miserable and my daughters find themselves in such a situation, what advice will I give them, that is what I think of whenever I am making a decision."
The former beauty queen has been at the receiving end of a lot of online bullying, especially for her dark skin but she said she was not bothered.
"I get some comments about how bad I look as a dark girl but I am not perturbed by those things, I love who I am and will not allow anyone to talk me out of it.
"My experience has taught me that as Africans, we need to accept and celebrate our skin and take care of it and this birthed my shea butter business.
"I have come to realise that shea butter has a lot of benefits so instead of using all those creams with chemicals in it, use shea butter, it has a lot of benefits", she added.
Hamamat encouraged people to be comfortable in their skin saying bleaching should not be an option for anyone.
To those who are about to get married, she had these words, "Happiness is key and remember that whatever the turnout of events are, you have a role to play. Take your time and make sure you truly know the person."
Source: Graphic Showbiz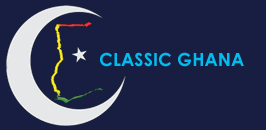 Latest posts by Classic Ghana
(see all)