The National Theatre of Ghana and the National Symphony Orchestra, a highly-talented professional musicians acting in concert with Valerie Naranjo, thrilled hundreds of entertainment fans, who flocked the National Theatre to watch ''TIERA PURA'' an exhilarating rendition of traditional classical music.
The musical concert with the theme ''Tiera Pura'' a Spanish language, meaning pure earth was a fusion of Northern Ghanaian xylophone music blended with variations of Africa folk music composition .
The opening kicked off with an introduction by Mrs Amy Appiah Frimpong, the Executive Director, who presented the purpose of gathering and said watching the concert in particular was going to open up a whole new of experience.
Classical music, she added, had been "shielded from the public eye far too long" and now the National Theatre was working hard to aggressively promote – boost its appeal and excitement.
The group electrified the place with a Classical Traditional Music that was not only pleasing to the ears but nourishing for the soul. The audience were simply ecstatic.
The melodies, the harmony, the relaxed rhythms, the colour of sounds were all related to one another, figuring out the artistic and the aesthetic skills of Isaac Annoh, the music director and a conductor of the group.
What stood out among all the music on that night was the xylophone (gyil), the National Instrument of the Lobi and Dagara tribe of Northern Ghana, played by Valeria Naranjo – a keen xylophone player from New York who was mentored for 17 years by the late Ghanaian xylophone legend Kakraba Lobi.
The audience, including the diplomatic community, were held spellbound by her perfection, skill and level of energy.
The concert forms part of the 25th anniversary celebrations of the National Theatre of Ghana.
Source: GNA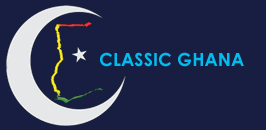 Latest posts by Classic Ghana
(see all)