Dr Papa Kwesi Nduom has offered to partner government under the One-District-One-Factory (1D1F) initiative to establish rice mills across all regions in the country.
Sharing experiences from his rice project with six companies, he said Groupe Nduom got into the rice milling industry almost by mistake but had been able to set up a successful mill in Worawora in the Volta Region.
He said Groupe Nduom was currently investing in the establishment of three more rice mills in Karaga, Assin Bereku, and Wenchi.
Dr Nduom was speaking on the topic; "Building a competitive economy on the back of the right investments for growth and jobs," on the second day of the Ghana Economic Forum 2018.
"We want to make that rice project a One District One Factory project in all the 10 regions; not that we own all of them but we help support six others as part of the project," he said.
He said such a partnership, with financial support from banks, could help to reduce rice importation by at least 30 per cent in the next three years.
Dr Nduom stressed the need for opportunity to be created for local businesses so that they could help others to develop.
He said it was important for the 1D1F initiative to leverage on existing businesses in the various districts, rather than focus on only green field (new) companies.
"We can't do 1D1F by just bringing on new entities, it won't work, they don't have the experience. So the 1D1F must also be, to a large extent, on the backs of those who are there already," he said.
Mr Joseph Siaw Agyepong, the Founder of the Jospong Group, agreed with all to focus more on existing companies in the 1D1F initiative, as it would help to better equip new companies to succeed.
"You can't be a master when you haven't been a disciple; a factory is a factory," he stated, emphasizing the enormity of establishing and running one.
He said it was important for government to look at how to take advantage of the low-hanging fruits in its quest to industrialise, by revisiting collapsed factories like the Jute factory, assessing what caused the collapse and using the existing infrastructure or demand to set up a new one.
Mr Agyepong noted that COCOBOD imported about $30 million worth of jute bags annually for its work, while only about $10 million was needed to set up a jute factory.
He urged Ghanaians to encourage local businesses by patronising made in Ghana products, even when the products seem to be of a lower quality so that they could learn and grow.
Mr Antwi Adjei, the Technical Advisor at the 1D1F, who represented the National Project coordinator, said the project did include existing factories, but was more focused on the green field companies in a bid to develop local entrepreneurs.
Government is also providing stimulus packages to address the case of existing, viable but struggling businesses.
Concerns about the inexperience of green field companies could be mitigated by training and incubation for such factories.
Mr Adjei said, however, that the project was open to any existing factory who wanted to support and mentor new companies.
Source: GNA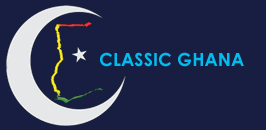 Latest posts by Classic Ghana
(see all)