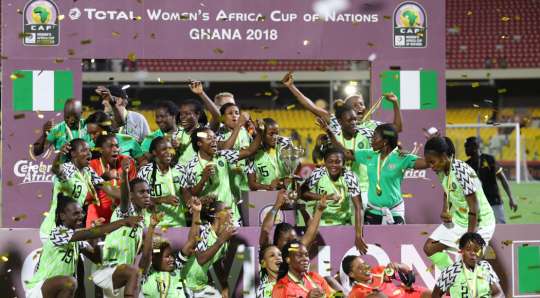 The Super Falcons of Nigeria, won their ninth Africa Women Cup of Nations (AWCON), by beating the Bayana Bayana of South Africa 4-3 on penalties, in the finals of the competition at the Accra Sports Stadium on Saturday.
Nigeria's Ebi Onome, missed the first kick of the day, but Nogozi Ebere, Rita Chikweli, Veronica Hezuo, Chineza Love, converted their kicks for the defending champions, whilst Noko Matlou, Nyandeni Nompumelelo, Mawelo Makhabane converted their kicks for South Africa, with Ramalepe Lobehang and Linda Motlahalo missing their kicks to deny Bayana Bayana the trophy.
This was, after the well deserved finals, that saw both sides sold out a good game to the spectators at the stadium, including Vice President of Ghana, Alhaji Mahamadu Bawumia, Mr. Isaac Kwame Asiamah, Minister of Youth and Sports and Mr. Ahmad Ahmad, President of Confederation of Africa Football (CAF), ended goalles, after 120 minutes of action.
Both sides created descent chances in the game, but were unable to utilize those chances, therefore forced the game into extra time and subsequently penalty shoot-outs.
It was a fairly balanced game, that saw action swang from one end to the other, with good defensive organization exhibited by the two finalists.
Nigeria's defensive network of Ebi Onome, Ngozi Ebere, Ohale Mavis and Josephine Chukwunonye, were too strong for arrow head striker Chrestina Kgatlana of South Africa, to penetrate and was always denied the needed chance to put her side ahead.
Nigeria, were also not accurate infront of goal, as they either misdirected kicks or lacked what it takes to covert them with the likes Oshoala Asisat and Francis Odega missing scoring chances to end the first half.
The second half, saw a more organized South Africans side, that dominated the game with swift passes and attacking play with some decent chances, which were subsequently wasted.
The dominance of the South Africans in the second sent signals of the West Africans allowing their opponents to play, so they could take them on counter and this worked out in the 73rd minute, when keeper Christen Swart brought down Francisca Odega in the vital area for referee Gladys Lengwe from Zambia, to whistle for a penalty, which was wasted by Oshoala, pushing the game into the extra time.
Both sides had some few chances in the extra time, as Odega's goal-bound pile drive, was well dealt with by Swart in the 94th minute, whilst a solo move by Kgatlana into Nigeria area saw her shoot straight into the hands of goalkeeper to keep the day barren in the 99th minute.
Subsequently, Linda Motlhalo's drive was easily dealt with by keeper Oluehi Tochukwu, who became the heroin of the day, when she saved Linda's penalty to grant Nigeria her ninth title in women's football in Africa.
Line Up: Nigeria; Oluehi Tochukwu, Osonachi Mavis, Ngozi Ebere, Onome Ebi, Josephine Chukwunonye, Asisat Oshoala, Rita Chikwelu, Ngozi Okobi, Rasheedat Ajabade, Francisca Ordega, Halimatu Ayinde
South Africa: Christen Swart, Lebohang Ramalepe, Nothando vilakazi, Janine Van Wyk, Mamelo Makhabane, Linda Motlhalo, Chrestinah Kgatlana, Jermiane Seopesenwe, Leandra Smeda, Busiswe Ndimeni.
Source: GNA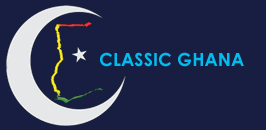 Latest posts by Classic Ghana
(see all)