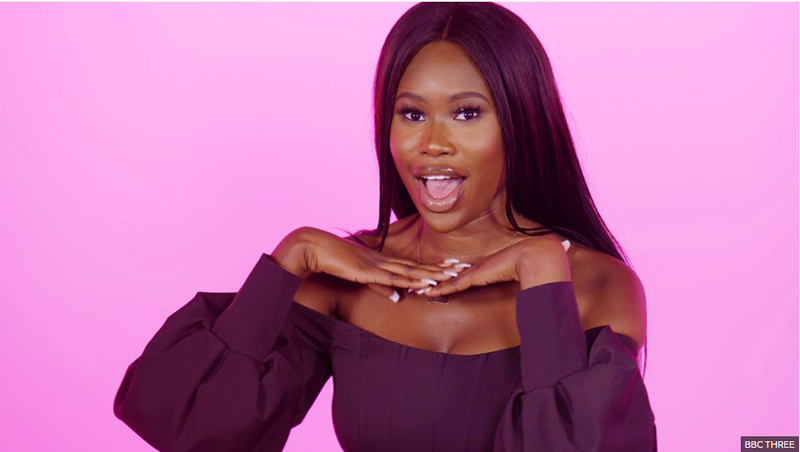 Whether she's in a club or buying tampons, 29-year-old Dami Oloniskin is never far from someone who wants her to overhaul their dating life.
"I'm just like 'Listen, I'm off the clock right now!' laughs the blogger, known to her fans as Oloni. "Yesterday, I went to the pharmacy, and I quickly did a toiletry shop and this girl was just like 'Are you Oloni?'"
Oloni is the agony aunt for the influencer age, with over 200k followers across Instagram and Twitter, a podcast and now a TV series. Her no-BS responses to her fans' sex and relationship queries and her now-infamous Twitter threads, where she asks her followers to share their juiciest sex stories ("DM me an interesting story about a time you had sex with one of your followers"), have made her both a voice and a resource for a generation of young women. But not everyone is happy.
"A lot of guys are intimidated by the fact that I have access to women," she tells me. "I think that they don't like the fact that I'm helping them become wiser, and make better decisions sexually, romantically as well."
Oloniskin started her sex and relationships blog, Simply Oloni, in 2008 when she was just a teenager. Back then, she wrote about her and her friends' dating lives, she says, exploring topics that it wasn't always easy to be open about when you're from a Nigerian and Christian background.
"I always enjoyed talking about sexuality and wanted to educate women, because I felt like it wasn't a topic that was discussed, especially in my community," she tells me. "People assume that, because you're sexually liberated, you're a porn star, and it doesn't mean that, it just means you're really well-educated, you're sex positive and you want to inform other women around you."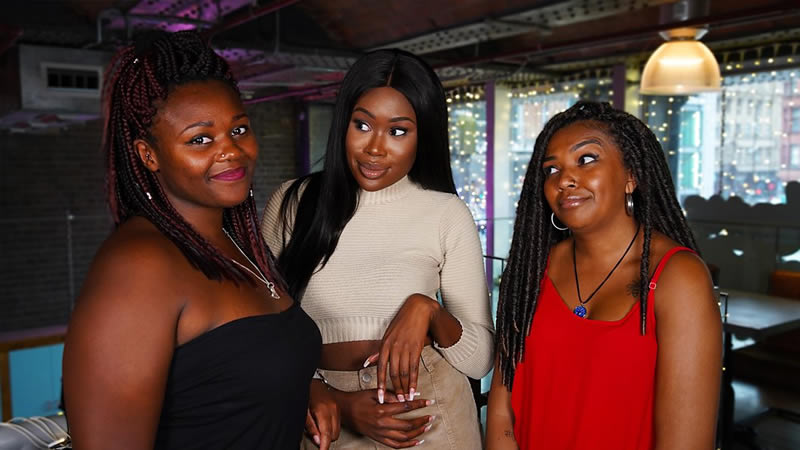 More than a decade on, the influencer now receives around 100 advice requests per day (dubbed 'dilemmas') with regular themes including orgasm issues, having the exclusivity chat and navigating a relationship with someone from a different culture to you. She responds on Instagram, via her blog and even provides paid-for telephone consultations to people who want to hash out their dating dilemmas in more detail. In her new BBC Three series, My Mate's a Bad Date, she mentors inept singles (who have been nominated by a friend) and advises them mid-date over the phone.
When Oloni tells me some of the dilemmas she receives, I'm no longer surprised that she isn't always popular with men whose girlfriends follow her online. One story that shocked her was from a woman who called after catching an STI. "She asked her partner about it and he was just like 'Oh you probably got it off a toilet seat'," she recalls. "I was just like 'No you didn't, he's a liar'."
Oloni sees this kind of story as testament to the fact that we're still not talking enough about sex. One reason she originally started her blog, she says, was to open up discussions around topics like STIs and female pleasure. "I feel like, because of that, a lot of women, especially from my community, are having that conversation and when they randomly do see me they're like 'Oh my gosh, if it wasn't for you, I wouldn't have the guts to tell my boyfriend this or that' – so I'm happy to see that there's a shift."
The 29-year-old may be a clued-up older sister to thousands of women now but she says sex education at her Christian school left her totally unprepared. "I always compare it to the famous line in Mean Girls where coach says 'If you have sex youre gonna die,' she explains. "I just remember being sat there like 'So, basically, just don't do it?' And then they just gave us condoms and told us to be on our way."
Recognising the impact of this kind of approach to sex ed, the blogger has given her own workshops in secondary schools, where consent is front and centre. Oloni says lessons about consent need to extend beyond sex itself: "Like in the clubs, for example, when you're walking past someone and the guy's grabbing your waist or if he wants to dance with you but he's not taking no for an answer, all those things go under consent and those are conversations we never really had in school."
The blogger recalls a session where she presented students with various scenarios and they gave a show of hands on whether or not they thought there was consent. "One group of girls would be like 'Yeah, there was consent' and then the other would be like 'No, there wasn't consent because he made her change her mind'," she says. "So they understood that coercion is not consent."
This is something she says she didn't realise at an equivalent age. "I probably would have been like 'Yeah, she gave consent because she said yes'," she admits.
What's the one thing Oloni wishes she knew about sex when she was a teenager? "Just because you have sex with someone doesn't mean that you're gonna hold hands, skip into the sunset and be happy forever."
"I remember when I lost my virginity I thought, 'Oh my gosh, this is it, this is my husband'," she continues. "You're supposed to have sex for yourself and no one else, and not because you think it's going to give you an access key or pass to be with them for life."
Source: BBC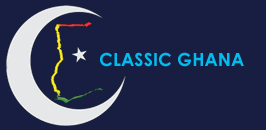 Latest posts by Classic Ghana
(see all)