A document put together by a committee headed by a senior minister in Ghana depicted high rise buildings over green landscape and one of the buildings turned out to be headquarters of Dawit Insurance in Nairobi.
The image was on the cover of Ghana Beyond Aid Charter was launched during the May celebration by Ghanian President Nana Akufo-Addo.
The National Democratic Congress (NDC) Member of Parliament for Kumbungu Ras Mubarak described the use of an image of Kenyan skyline as embarrassing.
The angered MP who spoke to Starr news lamented, "As if the issue of the President plagiarizing people's speeches wasn't bad enough, they have once again photoshopped a skyline from Nairobi and that's what you see when you open the Ghana Beyond Aid document."
"I was really shocked to see that, if we are trying to aspire to greatness as a country, there are equally exciting countries that we could aspire to become. To say that futuristically we are looking to become what Kenya is today is most embarrassing," expressed Ras Mubarak.
However, attempts by other government officials to downplay the matter have resulted in them urging Ghanian nationals not to worry about the contents of the document but instead focus on the contents of the substance.
Ras Mubarak added there were other more beautiful buildings in Ghana that could have been projected on the document which seeks to reduce the country's dependence on aid.
He complained that "Our country, I'm confident to say that our country looks good. The skyline of Accra is great and there is absolutely nothing wrong with using the skyline."
He further lashed out at the current Ghanian government for ignoring their skyscrapers and instead opting for Kenyan high rise buildings in Nairobi.
"They had to go to Kenya, to Nairobi, to photoshop and to give an indication of the future Ghana aspires to become through the eyes of Nairobi. This is most ridiculous, simply embarrassing, to say the least," he complained.
The Ghana Beyond Aid Charter and Strategy Document has 61 pages and 7 chapters spelling out the role of government and citizens to wean the country off the dependence of donors.
Source: Nation.co.ke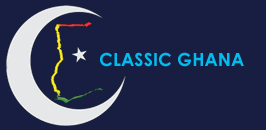 Latest posts by Classic Ghana
(see all)