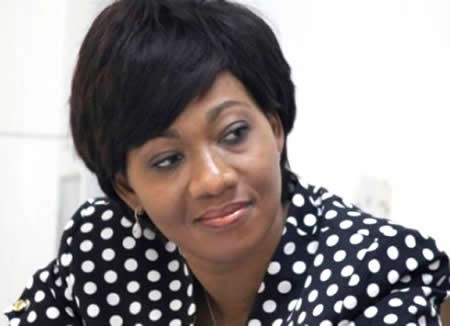 President Nana Addo Danquah Akufo-Addo, in Accordance with Article 70(2) of the Constitution, has nominated Mrs Jean Adukwei Mensa, as Chairperson of the Electoral Commission (EC).
He has also nominated Mr Samuel Tettey, and Dr Eric Asare Bossman, as Deputy Chairmen and Ms Adwoa Asuama Abrefa, as a member of the Commission.
A statement signed by Madam Akosua Frema Osei-Opare, Chief of Staff and copied to the Ghana News Agency in Accra on Monday, said President Akufo-Addo, had, by a letter dated, Thursday, July 19, sought the advice of the Council of State, in Accordance with Article 70(2) of the Constitution on the appointment of the EC Commissioners.
"President Akufo-Addo is hopeful that the Council of State will discharge its constitutional duty expeditiously, to enable him make these critical appointments to this very important institution of the State," it said.
The statement said this followed the removal from office on Thursday, June 28, of the former Chairperson of the EC, Mrs Charlotte Osei, and the two Deputies, Mr Amadu Sulley and Mrs Georgina Opoku Amankwah, by President Akufo-Addo.
Their removal was based on the Committee established by the Chief Justice, Justice Sophia Akuffo, to investigate petitions brought against them, recommended their removal.
It said further, the retirement from Office of Mrs Pauline Dadzawa, a Member of the Commission, on Monday, April 30, has created an additional vacancy in the Commission.
A brief profile of Mrs Jean Adukwei Mensa indicates that she is currently the Executive Director of the Institute of Economic Affairs (IEA), and Co-ordinator of the Ghana Political Parties Programme.
She is a lawyer by profession, and has carved a niche for herself in the field of policy research and advocacy.
She has been involved in the development of policies such as the Presidential Transition Act of 2012; the Revised 1992 Constitution of Ghana (draft); the Political Parties Funding Bill; and the Revised Political Parties Bill.
In 2010, she served as a Commissioner of 1992 Constitution Review Commission, and is currently a member of the Government Committee tasked with preparing the Affirmative Action Bill.
She is married with three children.
Mr. Samuel Tettey is currently the Director, Electoral Services (Elections) at the Electoral Commission, a position he has held since January 2014.
He has held several positions in the Electoral Commission, including District Electoral Officer in the Awutu/Effutu/Senya District, and Central Regional Director of the EC, a position he held from 2005 to 2011.
He has been a member of many Election Observer Missions to countries such as the Kingdom of Lesotho, Guinea and Liberia.
He is married with three children.
Dr Eric Asare Bossman is currently the Head of the Department of Political Science at the University of Ghana, Legon.
He holds a Master of Arts Degree in International Affairs from Ohio University, and also, has a Doctor of Philosophy degree in Political Science from West Virginia University.
He is the author of several policy papers in the areas of international politics, democracy in Ghana, and has teaching and research interests in the fields of Comparative Public Policy, Democratic Development, Public Policy Analysis,
Human Rights, International Security, Globalisation, and Forced Migration.
Ms Adwoa Asuama Abrefa is a Corporate Legal Practitioner, with specialisation in land/property acquisitions, corporate law, and corporate governance.
She is currently the General Manager, Legal and Corporate Affairs, at Cirrus Oil Services Limited, and holds an LLM Master of Laws Degree in Oil and Gas, and a Bachelor of Arts degree in Law and Political Science from the University of Ghana, Legon.
She is married with one child.
Source: GNA
Classicghana.com is a platform to informed visitors of News, fashion, photography, lifestyle, beauty, videos, arts & entertainment, and more.
Photojournalism is our main medium of telling news stories to our visitors.