Teenage Girls in rural areas in Ghana are to be provided with menstrual cups to help improve menstrual hygiene management.
This has become necessary due to worsening menstrual hygiene management among poor girls in rural areas with some resorting to the use of unhygienic materials including rags, toilet roll, cement papers among others.
According to The Kyereh-Foundation, a Non-Governmental Organization, it will distribute at least One Thousand Five Hundred, 1500, menstrual cups to teenage girls in deprived communities in Central, Brong Ahafo, Northern and Eastern Regions this year.
In 2019, the NGO distributed five hundred and sixty, 560, menstrual cups to teenage girls in some selected rural communities in Greater Accra and Volta Regions through partnerships and collaborations but hoping to increase the number of beneficiaries this year.
A menstrual cup is a type of reusable feminine hygiene product which can be used for as long as 10 years depending on the product quality. It is made up of medical-grade silicone, rubber or plastic and inserted into the vagina to catch and collect menstrual blood during a period.
The menstrual cup is safe, cost-effective, and comfortable to use than pads or tampons; it does not cause vagina dryness and does not leak or spill when inserted properly regardless of the rigorous activity the user engages in. Menstrual cups cost between $20 to $40 per cup. The cup, however, is rarely used in Ghana.
It is estimated that, globally, 800 million women menstruate daily; however, many of these women in developing countries such as Ghana struggle to have access to sanitary products compelling them to use unhygienic materials to manage their menstrual flow.
The difficulties in accessing Menstrual Management Products in rural parts of Ghana due to poverty remain a major challenge forcing many teenage girls to sometimes exchange sex for sanitary pads.
Period poverty is pervasive in rural parts of Ghana. Parent's inability to buy Sanitary Pads for their menstruating Children and lack of menstrual hygiene friendly facilities in Basic Schools have been linked to high absenteeism and Teenage Pregnancy among teenage girls.
Speaking to Starr News, the Founder/Project Director of The Kyereh-Foundation, Miss. Akua Agyapomaa Kyereh said" we cannot fight period poverty with disposables sanitary products, we need a sustainable approach. Menstrual cups, unlike the pads, are reusable for up to 10years. This makes it; cost-effective, and eco-friendly"
She added, "For a girl in the rural area who cannot afford to spend Gh5 or more a month to buy sanitary pads, the menstrual cup is the best alternative".
Miss Agyapomaa Kyereh corroborated the seriousness of the poor menstrual hygiene menace in rural parts of the country but bemoaned the dearth of attention received by Policymakers.
"Menstrual hygiene is a major issue but has been given little in our country. You will be marvelled to see how poor adolescent girls in deprived communities exchange sex for disposable sanitary pads. They end up getting pregnant and eventually drop out of school"
Source: Starrfm.com.gh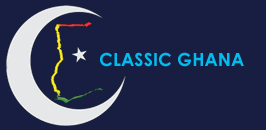 Latest posts by Classic Ghana
(see all)