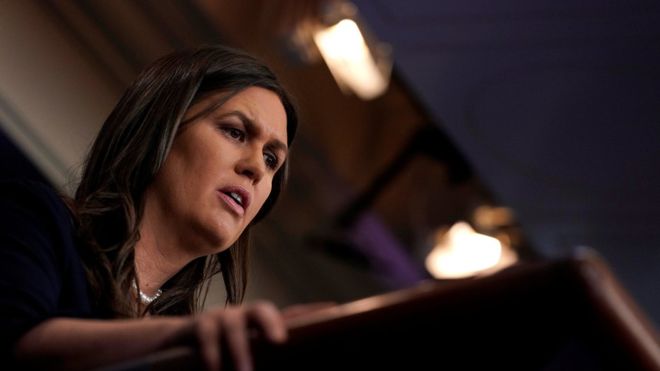 White House press secretary Sarah Sanders was kicked out of a restaurant on Friday night because she works for President Donald Trump.
A co-owner of the Red Hen in Lexington, Virginia, asked Ms Sanders and her family to leave as a protest against the Trump administration.
Ms Sanders tweeted that "her actions say far more about her than about me".
Stephanie Wilkinson said she believed Ms Sanders worked for an "inhumane and unethical" administration.
She told the Washington Post that she decided to ask the Trump spokeswoman to leave the 26-seat, "farm-to-table" restaurant after talking to her staff.
"Tell me what you want me to do. I can ask her to leave," she said she told them. "They said yes."
The incident comes days after Homeland Secretary Kirstjen Nielsen was booed at a Mexican restaurant in Washington DC.
Both cases come amid increasing pressure on the US government over its controversial policy of separating migrant children from their parents at the Mexican border.
A decision by the administration to criminally prosecute every undocumented migrant crossing the border led to some 2,300 children being separated from their parents in May and June, and sparked a global wave of outrage.
President Trump has now halted family separations but says he remains committed to the "zero tolerance" policy.
Critics of the Red Hen's decision said that it was discriminatory.
However, others compared the restaurant's decision to a recent Supreme Court ruling in favour of a baker who refused to make a wedding cake for a gay couple, in a case seen by many conservatives as a test for religious freedom.
The restaurant's Facebook profile has seen a surge of one and five star ratings since news of the incident broke on Saturday, while its online reviews have become increasingly polarised.
One negative review of the restaurant online read: "I was dining at the Red Hen and witnessed them rudely refuse service to Sarah Huckabee Sanders. I was disgusted and appalled by the incident. I will never eat at this establishment again."
"Terrible ownership and management: bigoted and prejudiced," wrote another reviewer.
But thousands of other users supported the decision. One wrote: "Love this place. Morally superior and the food must be delicious…"
Ms Wilkinson said that she asked Ms Sanders to talk to her outside before explaining "that the restaurant has certain standards that I feel it has to uphold, such as honesty, and compassion, and cooperation".
She said Ms Sanders immediate response was: "'That's fine. I'll go.'"
Ms Sanders' father, former Arkansas Governor Mike Huckabee, weighed in by describing the restaurant's actions as "bigotry".
Just hours earlier, he caused controversy by tweeting a joke, which some people interpreted as suggesting that Minority Leader of the House of Representatives Nancy Pelosi – a senior Democrat who has spoken out against border separations – supports the violent MS-13 gang.
President Trump has repeatedly made references to the gang, which operates across Central America, to justify his tough stance on illegal immigration and border control.
Source: BBC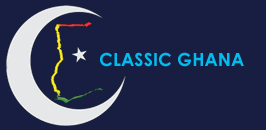 Latest posts by Classic Ghana
(see all)