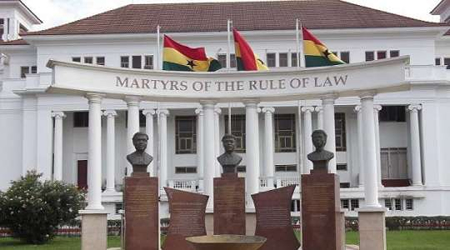 The Supreme Court has upheld the pardon granted to the "Montie 3" by former President John Dramani Mahama in 2016.
The Court dismissed the legal action in a 5-2 majority decision with the majority ruling that the former President's powers to remit a conviction cover that of contempt of court.
The majority decision was made by Justices Sophia Adinyera, Paul Baffoe-Bonnie, A.A Benin, Yaw Appau and Gabriel Pwamang, while Justices Jones Dotse and Anin Yeboah dissented.
"The remission cannot be questioned as it followed due process," the Court held.
On Wednesday, July 27, 2016, Saliu Maase aka Mugabe, a radio show host; Ako-Gunn and Allistar Taipei Nelson, two panellists of Montie FM an Accra based FM station were sentenced to four months' imprisonment each by the Supreme Court for scandalising the court.
They were also fined GH¢ 10,000 each.
The two panellists urged on by Maase, threatened the lives of judges of the Superior Court, especially those who had heard the case on the credibility of the country's Electoral Register filed by Abu Ramadan and Evans Nimako against the Electoral Commission.
They were found guilty of scandalising the Court, defying and lowering its authority and bringing its name into disrepute
After the Court's decision, a petition was sent to then President Mahama, describing the sentence as "harsh" and urged him to pardon them.
The former President Mahama, in August 2016, remitted the convicts' sentences from four months to one month, which they had served by then.
In September 2016, Nana Asante Bediatuo, now the Executive Secretary to President Nana Addo Dankwa Akufo-Addo; Mr Elikplim Agbemava and Mr Alfred Tuah-Yeboah filed separate legal actions to challenge the remission by the President.
The applicants argued that upon a true and proper construction of articles 14 (1)(b), 19 (12), 72 (1) and (3), 125 (1) and (3), 126 (2) and 127 (1) of the 1992 Constitution, the purported grant of a remission of the punishment of four months imposed on Mugabe, Nelson and Gunn was in excess of the powers conferred on the President of Ghana by Article 72 (1) of the Constitution 1992, an unjustified interference with the independence of the Judiciary and thus an affront to the Constitution of Ghana.
They prayed that should the Court find the case meritorious, the Montie three should be sent back to prison to finish their jail terms.
Source: GNA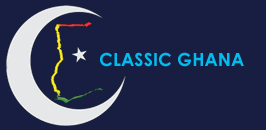 Latest posts by Classic Ghana
(see all)