Are you missing a friend's wedding, engagement party or even graduation because you did not get your hair done or don't have a wig cap to cover your undone hair?
Then Gele is a reliable option in these times. Gele is a type of head gear worn by women. It has its origin from Nigeria. There are various styles and various functions that one can wear Gele to.
Gele comes in various styles. There the Round Gele that comes in two forms. The 'thousand' pleats and the 'one million' pleats. The thousand pleated round Gele can be "rocked" by anyone to weddings, parties and any social event. The one million pleated round Gele is purposely for brides. It is just an over exaggeration of the thousand pleated round Gele.
Other styles include the Fan Gele that looks like a fan hence its name. It also comes in two forms; the bigger type and the smaller type. Other types of Gele are the Love Gele, Vee Gele, Fascinator Gele and the Icon Gele. These types of Geles can be "rocked" by any class of women, females of any age and from any religious background.
Gele is suitable for all occasions and all women and it brings out the 'modest' look in a woman before society.

DeeBee House of Beauty is organising a special training in making Gele starting on Wednesday 17th July – 21st at Adenta at a cool rate of Ghc 250. Contact Deebee on 0248199346 for further enquiries.
By: Deebee House of Beauty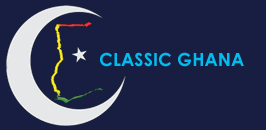 Latest posts by Classic Ghana
(see all)