When the tale of a member of the Let My Vote Count Alliance (LMVCA), who lost an eye in a protest set the internet abuzz, most Ghanaians could not simply decipher how one could lose one of the most precious parts of the human body – the eye – in a protest which started peacefully.
Barely two months after the incident, has the victim had a new eye. You may be wondering how he got a new eye. Come to think of it, can a lost eye be replaced?
The answer is Yes and No at the same time. Yes because you can get a prosthetic or artificial eye from the hospital, which looks very much like the "natural" eye, and no because that artificial eye cannot perform the major function of the eye – that is to see.
Who is Evelyn Kyere?
Evelyn Kyere is an ophthalmic nurse and according to her, she is the only ocularist at the Korle-Bu Teaching Hospital in Accra.
She is also the only ocularist (a person who makes ocular prosthetics – artificial eyes – for patients who have lost their eyes) in Ghana.
She brought smiles to the face of Mr Justice Adzakuma, the man who lost an eye in the LMVCA demonstration, by providing him with an artificial eye (ocular prosthesis). After the surgery, one could hardly tell the difference between his "natural" eye and the artificial eye. It is even harder to notice that he actually lost an eye.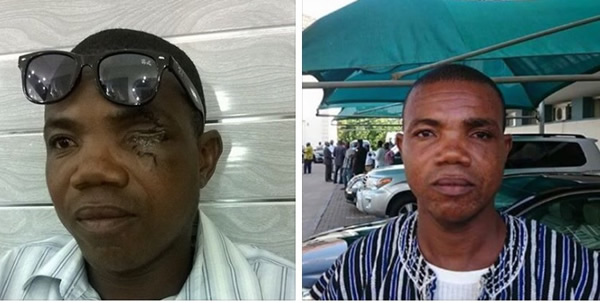 Evelyn Kyere, who is a mother of three, completed Community Health Nursing in 1996 and worked for some time. She decided to further her education at the Korle-Bu Nurses Training College and was posted to the Eye unit of the same institution she had studied in. Working at the Eye Unit for some time, she decided to specialise in ophthalmology.
How did she become the first and only ocularist in Ghana?
While working at the eye unit, a visiting ophthalmologist came to Ghana to perform surgeries for people with cancer of the eye. Madam Kyere at that time assisted the visiting doctor to perform surgeries – removing patient's eye to prevent the cancer spreading to their brains.
"After performing many surgeries, we were thinking of how to fill in that hole. Some doctors noticed that I had interest in what I did with the stock shell because even when we were using stock shell to replace lost eyes for patients, I always try to make it look better on patients because I was worried seeing patients with that kind of shell in their eye socket.
"Realising my enthusiasm in the field, one Dr Dogbe suggested that I further my studies in India. So I went to India to specialise in ocular prosthesis. I spent six months in India and did a little rotation there as well. I came back and I went to the UK for further studies at Moorfields Eye Hospital to learn more about ocular prosthesis."
From stock shell to custom-made ocular prosthesis
Prior to her studies, Miss Kyere and visiting doctors used stock shell to replace lost eyes, but she didn't like the way it looked on patients. "The stock shell doesn't come out with the nice colour that we expected and occasionally the cornea comes out grey and other different colours which did not match the normal colour of the eye.
"But now, here in Korle-Bu we are able to make custom-made ones for patients. We take the measurement of the hole of the lost eye, mould and paint it to look like a "natural" eye. We then put a glass on it, polish it, making it very difficult to sense the difference if you have not been pre-informed."
After her specialisation in ocular prosthesis, she has performed surgeries on 92 patients since 2013. Some of whom came from Burkina Faso, Ivory Coast and Nigeria.
Response from patients
About 98 per cent of Miss Kyere's patients had been satisfied with the procedure, according to a research that was conducted at Korle-Bu. However, only per cent of  patients were unsatisfied with the procedure. The per cent were patients who by accident lost an eye and eyelids altogether and thought the surgery could miraculously provide a new eyelid. This, according to Miss Kyere, is impossible from her end.
How does a patient with a prosthetic eye maintain it after the process?
After a successful procedure on adults, the artificial eye needs to be changed every 10 years. However, patients have to visit the hospital for polishing every six months. Word is, the artificial eye does not provide vision but it's very difficult to tell the difference between the eye that sees and the artificial eye.
What happens to patients who need the services of an ocularist when Miss Kyere is not available since she's the only ocularist in Ghana?
"At the moment, my doors are open and expecting ophthalmic nurses from various regions to come and learn from me, but right now I'm training one ophthalmic nurse from Korle-Bu who is also good to do what I'm doing. We have sent information to various hospitals and Nurses Training Colleges to inform interested students to come and learn but response has not been encouraging."
Things that can cause you to lose your eyes
Cancer of the eyes, detergents and other chemicals in the eye, hair relaxers, 'Apollo' (a contagious eye infection) and measles if not treated well.
Prevention
Visit the nearest hospital if any kind of chemical enters your eye. Avoid over-the-counter eye drops because, if not correctly applied, it can make matters worse.
Parents should be alarmed immediately they sense some changes in their child's eye and report to the nearest clinic.
People whose jobs usually expose them to fire like welders, caterers and plantain roasters should wear protective glasses while working.
Children should avoid playing with sharp objects.
The earliest known evidence of the use of ocular prosthesis is that of a woman found in Shahr-l Sokhta, Iran, dating back to 2900-2800 BCE and the first in-socket artificial eyes were made of gold with coloured enamel, later evolving into the use of glass in the later part of the 18th century.
By Pamela Ofori-Boateng
Source: African Post Magazine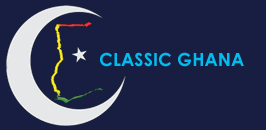 Latest posts by Classic Ghana
(see all)