In the land formerly called the Gold Coast, European castles lined up the shores like invading aliens. The castles were built as early as the fifteenth century and were used by the Portuguese, Dutch, Danes and British to imprison and ship out slaves across the shores of Africa.
The slaves were shipped to North and South America, the Caribbean, Europe and Asia. Over 500-years ago, African ancestors were taken away from the shores on ships – brutally raped, robbed of their culture and taken away to far places, to strange lands. Today, most of the slaves' descendants are returning to their ancestral home – Africa.
Ghana has become the first stop for African-Americans tracing their roots back home. Thousands of African-Americans come to the castles and are transformed. The experience changes the lives of many and some decide to stay. Others come as a spiritual pilgrimage never intending to stay.
Seestah Imahkus Njinga is a returnee, one of the first to make a journey of returning to her ancestral home to settle at Cape Coast. Shown in a recorded video documentary, Journeyman,  she and the husband Nana Ababioo returned in 1990 to setup a hotel in Cape Coast leaving the United States' urban jungle for good.
She said after she went into the castle dungeons, she knew when she came out that she will never be the same person again. She said she got emotional and remembered people screaming, people lying all over the ground sick and crying and she was in the midst of that. She could feel people touching and embracing her, telling her not to cry that everything will be alright.
Her children did not like the idea of returning but she said, "The opportunity to return to the land of one's ancestors to be able to make that real connection with who it is that you are, your true identity, the sacrifice of family was worth it". After a decade later, her family is beginning to come. "Nothing has happened to me since I have been in Africa that will make me want to go back to America," she asserted in the documentary.
Kwaku Asante also a returnee living in Cape Coast said he is happy to come home but finds it a little disturbing that the Africans they deem as brothers and sisters rather see them as 'Obroni' meaning whiteman. It is because the people don't know the history and don't understand that they are the descendants of the ancestors who were taken away over 500-years ago.
Mimi Igyan left her comfortable home in Atlanta, to bring her three children and her mother, Carly to a small rented house in Cape Coast. She said in the United States you never really feel at home, you always feel like you are under pressure by the police officers.
You never feel comfortable to roam about freely without someone treating you disrespectfully or like a criminal, so she felt happy to be here. Her children attend a local school in Cape Coast and feel happy living here.  She doesn't think anything can send her back to the United States.
The return of the Diaspora is gradually making a mark across the country. Joey Jay is a D-J returnee from London. He is developing a housing co-operative for returnees back home.
A local chief grants him the land as compensation for his ancestor's role in kidnapping slaves.
Thousands of Africans in the Diaspora are making a return journey day-by-day across the length and breadth of Africa. Their return is significant to Africa because majority have setup businesses which contribute to the growth of the economy.
The slaves who left these castles had no chance of ever returning home one day.
Today, the story is not the same as it was 500 years ago, where slaves were brutalized and taken away from their land of birth to strange lands to be treated like animals working for harsh masters. History has made them realize their roots, the land of Africa, where they belong.
According to CNN's African Journey, over five thousand African-Americans are living in Ghana, West Africa. For these African-Americans, the reconnection with the motherland is an undeniable, physical and spiritual experience that seems life changing. They are still to close the gap that separate them from the African born.
Many of the ancestors who left these castles know that someday, their descendants will return through the 'Door of No Return'
The descendants are coming back in the name of their ancestors, closing the cycle of half a millennium of misery.
This article is based on the video documentary, Journeyman
By Francis Quasie (Email: fquasie@gmail.com)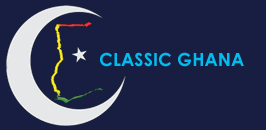 Latest posts by Classic Ghana
(see all)