IF there is one thing Roverman Production's The Woman In The Bathroom can boast of then it is royalty. The pomp and pageantry that characterises the play needs commendation.
The play, which is one of the productions included in this year's Festival of Plays, was staged again on Thursday, December 27 and the audience still enjoyed it.
The Woman In The Bathroom is a play about choices, when you choose to abandon your dream to fulfill the destiny you have been called to for the greater good.
Nanasei Agyeman has made it – a budding acting career in Hollywood and on the verge of marrying the love of his life, Ruu, the only daughter of a Ghanaian millionaire, Mr Baah.
However, on the wedding day, when he is just about to say "I do" at the altar, a group of people storm the church and kidnap him.
He is taken to a strange location where he discovers that he has to go through a lion and the woman in the bathroom if he is to see Ruu again.
The manner in which he is kidnapped from the church leaves much to be desired, so unexpected. The police is called in the intervene and how the policewoman conducts her investigations is very hilarious.
Mr Baah himself is a suspect as it is discovered that he and his boys are involved in the kidnapping.
Nanasei is taken to a location where he finds everything strange. He gets so upset when he is told that he is about to be made chief since he is the chosen one.
The women in the palace explain things to him and also tell him that he will stay there for a week after which he will be enstooled as chief.
Nanasei goes through the processes and is made chief amidst pomp and pageantry. A beautiful spectacle to behold with everyone including Nanasei looking so gorgeous in their costumes.
Mr Baah and Ruu come to the palace and the icing on the cake for Nanasei is that he can have his sweetheart back.
The scene where Nanasei's friends visit him in the palace not knowing the rules is very funny and sent the audience roaring with laughter.
Uncle Ebo Whyte and his team invested a lot in costumes and props for this production and ought to be commended for that.
Acting was generally good because the cast interpreted their roles very well. As has been stated earlier, props and costumes were on point.
Kudos to Roverman Productions for pulling off another successful play with Woman In the Bathroom.
Source: Graphic Showbiz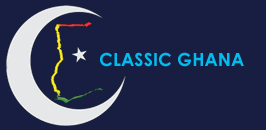 Latest posts by Classic Ghana
(see all)