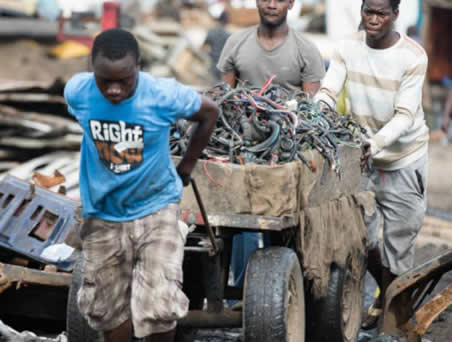 The pair of shorts and slippers betray Zachariah as a child worker. He looks elderly from afar, but only 14.
The Genesis
His bulky long sleeves folded to the elbow makes him look unkempt as he struggles to push his truck of scraps through the streets.
The teenager cannot communicate in English or any local language, but very experienced in collecting discarded metals-what he was trafficked from Niger to do in the Volta Regional capital, Ho.
Scrap trade is arguably the fastest growing economic activity in the regional capital attracting teenagers, mainly boys, from neighbouring countries.
The boys are trafficked to Ghana and engaged in the hazardous work of combing dumb sites, communities, mechanic and workshops for discarded computers, fridges, damaged car batteries and other electronic waste materials.
They work dawn to dusk and are first seen at street corners and communities early hours searching for discarded objects of "value".
The real work is at refuse dumps, where they rummage heaps of refuse for the "precious metals".
Zechariah says scavenging is easier when the refuse is burning as they work through filth and smoke from burning of wastes with no protective gear, unaware that breathing in hot air, smoke, or chemical fumes can cause irritation or swelling in children's airways-MyHealth.Alberta.ca.
The boys are exposed to bad weather conditions too, in their quest to work and raise money to support themselves and families back home.
After rounds of searches on refuse dumps, they move back to the communities, mechanic shops and the streets for some more "goods" before handing them over to their "master"-Alhaji, a middleman who sells the materials to scrap shops.
The GNA is told a percentage of the cash is sent to parents of the boys outside the country, indicating how extreme poverty forced parents to push their children to cross borders and work to support their families, violating the rights of the children to survival, education, protection and development.
Alhaji has other children workers who are deprived of their childhood and education, working in the streets and market centres.
The children, between ages 12 and 17 sell belts, mobile phones and their accessories and other items roaming streets, city centres and public offices. The children generally look unclean, poorly dressed and malnourished but strong enough to work for money for their masters and families.
TRAFFIC GIRLS
The boys are not the only children working in the streets of Ho. Ola and MTN traffic lights are common places to see children, especially girls selling during school hours and late at night.
Most of the girls are also trafficked from neighbouring communities as house helps who found themselves selling in the streets at odd hours.
Naomi, 17, said she started selling sachet water in the streets when she came to Ho at age nine, to live with a distant relative as a house help.
She said she got pregnant when she was 13 and thrown out of the house. She has since been struggling to survive in the streets while her four-year old boy is on the farm with his father on the Ho-Aflao road.
The shy looking girl said occasionally she gives in to sex from men for financial support for her business, her upkeep and that of her child.
Esi, also 17, who was spotted around the Ho Post Office square at midnight claims she is in Junior High School form two and gets around GH¢100.00 every week from men she sleeps with, to cater for her school needs because her Aunty with whom she was staying could not provide for her.
MARKETS
Children with similar stories are in the Ho Central Market, with many more pouring onto the streets, on the eve of Ho Market days for quick money. A chunk of them are not in school and sell on the streets as late as 2200hours and sometimes till midnight during social events such as funerals.
A few are in school, but spend most of their time selling in the streets with no or little taste of childhood pleasures.
Mr Israel Aklorbortu, Regional Head, Department of Children said there are two types of street children in Ho, those who work and sleep in the street and those who work in the street and go home.
He said it was important all stakeholders, especially the local Assembly work towards the protection of children, as mandated by Section 16 of the Children's Act, Act 560, 1998.
KETE KRACHI
At Kete Krachi, an ugly spectacle, which should dumbfound social workers is how girls are involved in offloading sacks of charcoal from the top of vehicles with great difficulties, some with babies strapped at their backs.
It is also worrying to see them sleeping in the open, on sacks of charcoal, at the mercy of the weather with regular reports of sexual abuse.
Babies, not weaned from the breast, are also spotted crawling and drifting in the charcoal dust, some, half naked.
Experts say, children who inhale charcoal dust could develop hole in heart conditions. Pregnant women who also inhale the dust could give birth to children with the conditions.
Akosua looks frail, but very forceful. She told the GNA she and her friends are involved in the energy-sapping activity of felling of trees, cutting them into sizes, and covering them with soil before they are fired into charcoal, which they sell to support their families.
"It is difficult. We have cold and cough always. School is good but this business helps to take care of my family," she lamented, dropping her head.
This is an indication that despite economic growth experienced between 2005 and 2010, inequality has been increasing and poverty remains prevalent with the gap between the urban and rural poor doubling-four times as high as urban poverty compared to twice as high in the 1990s as stated in the 2016 Ghana Poverty and Inequality Report.
This undermines government's efforts at eradicating extreme poverty stated in Sustainable Development Goal One, which calls for the eradication of poverty in all its forms by 2030.
SOUTH TONGU
At Dokploame in South Tongu, some 29 kilometres from Sogakope, the District capital, teenage mothers are on the increase with many struggling to remain in school, while they still work on the farm.
Seventeen-year-old Mamavi (not her real name), a teenage mother and a pupil of Dorkploame Basic School works on two farms located about three kilometres away from the community every morning before trekking to school. That is how she manages to take care of her three-year-old baby, her husband and her 10-year-old younger brother.
Mamavi's husband, Kudzo, 18, a school drop -out, got Mamavi, now in Junior High School form three, two cassava and one maize farms under a share-cropping arrangement to supplement what they could get from their own vegetable and yam farms.
The young girl is unable to manage the time for her baby, the farm jobs, the school and the home and often missing the first two and last lessons at school.
Mamavi said she picked a boyfriend at age 13 to help with chop money when her father died in 2008 and her mother's new husband threw her and her younger brother out of the house.
The teenage mother, then in class five, moved in with her 15-year-old boyfriend, now turned husband, who got her pregnant with promises of shelter and feeding.
In the district capital Sogakope, and another Sokpoe, a suburb, a good number of teenage mothers have taken to hawking with many exhibiting difficulties in taking care of their children, strapped helplessly at the back.
Many of them sell deep into the night with some reportedly sleeping in structures around the Customs barrier, where they sell.
There are also reports of vehicles running over a few, killing them instantly and some getting maimed.
Reasons
Unscientific studies indicate that the fight against extreme poverty as demanded by Sustainable Development Goal (SDG) One is hardly felt at the local level. There is little or no commitment of local Assemblies to fight extreme poverty in their jurisdictions.
Their focus is market tolls, structure and business operating fees and other levies and not children trapped by poverty gallivanting in the communities.
The Assemblies are unable to enforce and ensure successful implementation of government policies, reasons many children remain in the streets and not in school, despite the free education policy.
Recommendations
The timeline for the SDGs is fast approaching, hence important for the local Assemblies to wake up to their responsibilities for Ghana to meet the target.
They must come out with innovative programmes and incentives to support the poor, especially women entrepreneurs to grow their businesses and discourage them from engaging children in economic activities during school and odd hours.
Ghana is the first country in Sub-Saharan Africa to reduce poverty by half, as expected by the Millennium Development Goal 1 and continues to lead the dream for Africa to eliminate extreme poverty by 2030.
Stakeholders, especially local Assemblies must therefore help address extreme poverty evident in inequalities of access to social infrastructure, education and healthcare and also solve issues of social exclusion and high vulnerability to disasters and diseases at the local levels.
By A.B. Kafui Kanyi
Source: GNA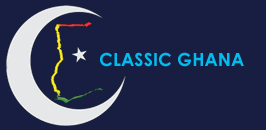 Latest posts by Classic Ghana
(see all)