In this era of the world going digital, it comes as no surprise that swiping left and right on dating apps have totally surpassed the more traditional ways of finding "the one".
The concept of finding love via social media is actually not as unlikely as it may sound.
Due to instantaneous connections and the ability to scroll through someone's likes, dislikes, and their fave memes, it's pretty easy to find common interests with someone and to slide into their DMs to initiate a conversation.
Even something as small as a like or a comment can actually lead to lasting relationships.
But can you actually fall in love on social media, or does this method of matchmaking lead to eventual heartbreak?
Well, a Ghanaian couple's story can be a positive response to the question posed earlier.
The couple Afia Adutwumwaa and Frederick Ohene Offei-Addo became viral on social media with their love story – how they met on Facebook and later married.
Afia taking to her Facebook wall to celebrate their 1st year anniversary recounted how Ohene contacted her through her inbox.
The conversation which started from her inbox led to the birth of their union.
"Not all the guys in our inboxes are preys, some are for real, just be wise and vigilant enough and remember prayer works a lot", she added.
Read her full message below:
"He was part of my over 4000+ Facebook friends without me knowing him until he decided to bring politics into my inbox knowing very well how much I love politics(Opana wanted to be smarter than the normal Ghanaian way of doing politics on social media).
I responded to his messages respectfully but in my head, I was like….this guy thinks he is smart aaama, I don't even know what happened next but few months afterward I realized boooooommmmm, we were at the altar exchanging vows to be each other's keeper till death .
My dearest Frederick Ohene Offei-Addo today marks exactly a year we became one in holy matrimony and on our anniversary the good Lord decided to bless us with a cute little angel who is just as cute and adorable like u.
Growing up I knew angels do live up in the skies but I never knew I will be living with one on earth and as my heartbeat for life.
Ohene Kwesi wo da da wai na I will be loving u till we grow old, but just remember I am going to be ur permanent bitch for life.
Not all the guys in our inboxes are preys, some are for real, just be wise and vigilant enough and remember prayer works alot.#AyearDownForeverToGo…..#AbrewaNana"
Source: ghanaweb.com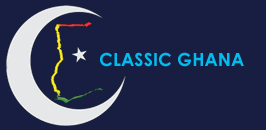 Latest posts by Classic Ghana
(see all)